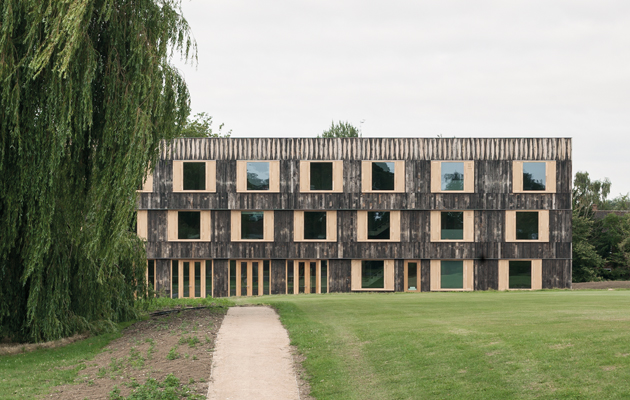 Cowan Court's reclaimed oak cladding nods to the board-marked concrete of the original college
6a has made its name by weaving new narratives into buildings' layered pasts. As its new project at London's oldest fire station shows, it makes for compelling, nuanced architecture, writes
Joe Lloyd
All cities have buildings that, though one has never crossed the threshold, spark one's imagination. London's former Peckham Road Fire Station is one of these. Fleetingly glimpsed, behind graffiti-daubed hoardings, on walks between Camberwell and Peckham, its neo-gothic facade acquires an almost sinister character, as if it has been concealed to protect passers-by from something unspeakable within.
This is about to change. In 2015, an anonymous donor bequeathed the building — the oldest surviving state fire station in London, dating from 1867 — to the South London Gallery (SLG), which has been based across the road since 1891. All traces of the macabre have vanished. The Gault brick facade has been spruced up, its cobbled forecourt once again opened up to the street. To enter its atrium, newly extended to double height, is to bathe in natural light from almost every direction. An unpainted two-storey wall of brick, battered with age, occasional infills and furnished with an old fireplace, is all the more spectacular for being allowed to breathe. A history — of functional use, of lives passing, of periodic extempore adaptation — is made palpably real.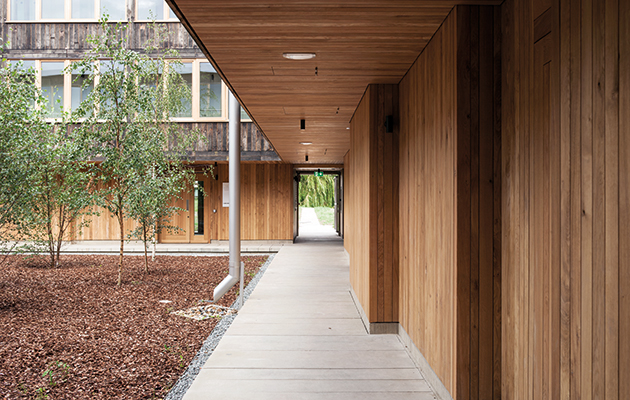 A cloister frames the landscaped courtyard at Cowan Court, Churchill College, Cambridge (2016)
This is the work of the Bloomsbury-based practice 6a Architects, led by Tom Emerson and Stephanie Macdonald. Over the past decade, 6a has refined a sensitive approach to working within and around historical architecture, whether the high Victorianism of the fire station or the late modernism of Churchill College, Cambridge. Their work has become distinguished by a lightness of touch and a remarkable attention to detail, underpinned by wide-ranging research on each project. 6a's 30-strong team encompasses a diversity of academic backgrounds — 'We have mathematicians, historians, sociologists, anthropologists,' says Macdonald — and that allows for a holistic mode of work. Macdonald herself began by studying fine art, while Emerson has written widely on art and literature.
The pair met while studying at the Royal College of Art, and after pursuing further studies, founded 6a in 2001. They have worked together ever since, building up a loose, unstructured and collaborative relationship. 'I guess we have quite a shorthand,' Macdonald says, 'because we've grown up together in design years and often if talking over something we'll prompt each other to new thoughts.' The practice was named after the door number on their old studio: a self-effacing, anonymising gesture that chimes with the subtlety of their work. 'It was quite pragmatic,' explains Macdonald. 'We always used to be saying, we're at 6a, or come round to 6a, and it stuck.'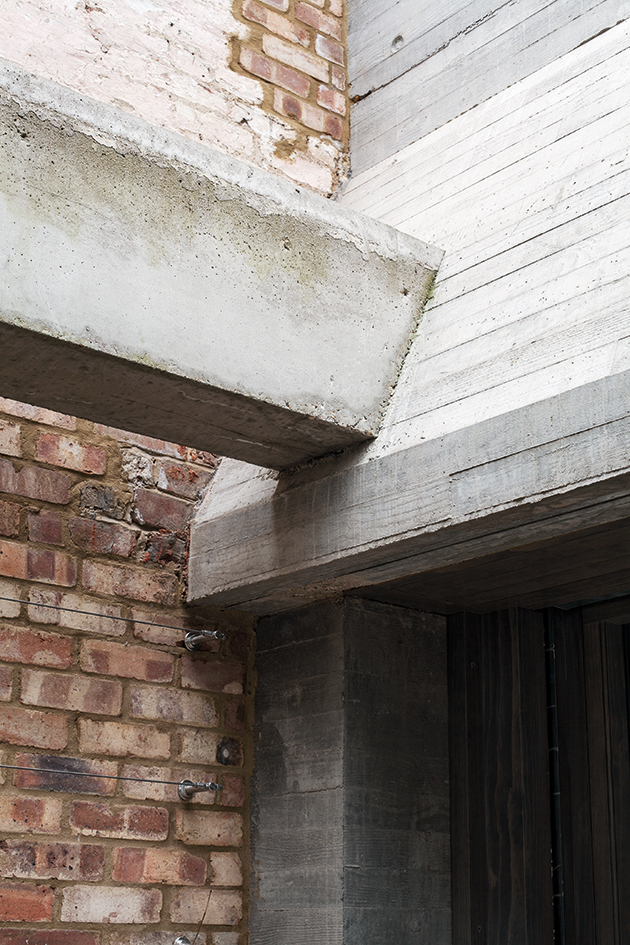 The practice's first project was a Mayfair showroom for the online fashion retailer Oki-ni. 6a framed the space with enormous wooden boards, and used piled stacks of felt as plinths for items. It was a bold debut, but one that gave little sense of what was to follow. The next few years were relatively quiet, punctuated by residential projects and exhibition design.
Then, in 2009, came Raven Row, a non-profit art institution in Spitalfields set within two 17th-century townhouses. The ground floors of the houses, filled with elegant rococo fittings, were converted into shops for Huguenot silk merchants in the 1750s, then later divided into apartments for market workers. Aided by a cache of photographs, Emerson and Macdonald reacted to this knot of historical narrative with customary studiousness. 'If we do have a methodology,' explains Macdonald, 'it's about looking closely at the material language of what we already have to work with, what culture and knowledge this embodies. These are our tools.'
They designed doorknobs impressed with thumbprints, evoking years of intimate use. In a former office space at the building's rear, they added charred timber roof lights to reference a 1972 conflagration. On the highest storey, a flat occupied by a pair of elderly sisters until their deaths in 2008 and 2010, was allowed to retain its 1970s decor. The finished structure — which was nominated for the EU's Mies van der Rohe Award — bears the spectral imprint of its complicated past. While many contemporary art galleries strive for a placeless minimalism, Raven Row delights with its tangible sense of a lived history.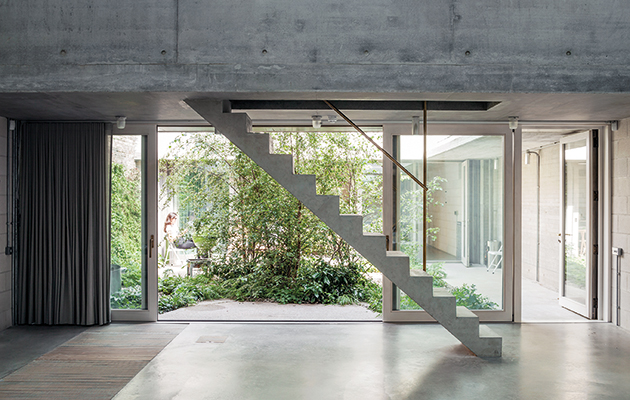 Around the same time, 6a struck up a relationship with the SLG and its director Margot Heller. It was commissioned to supervise an expansion, completed in 2010, that doubled the gallery's footprint. Emerson and Macdonald transformed an adjoining townhouse into a cafe, exhibition spaces and artist's flat and built an educational studio, used by schoolchildren, on the site of a bombed archive at the site's rear. They returned in 2016, to work with the Mexican artist Gabriel Orozco and horticulturists from Kew Gardens on a rugged, meditative back garden, a series of discrete but interconnected spaces based on the motif of the concentric circle. A rear gate links the gallery directly to the neighbouring Sceaux Gardens estate.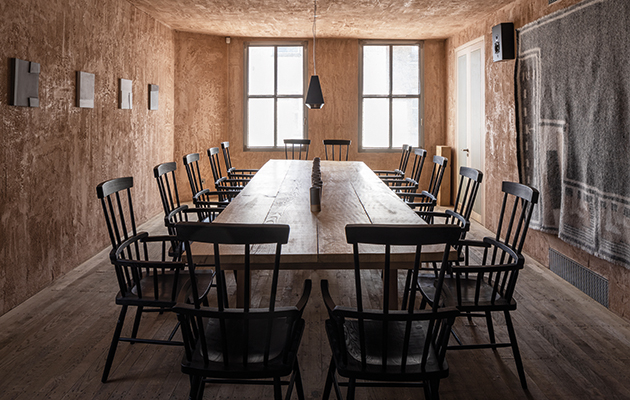 This connection with local residents has been pivotal to 6a's work with the SLG. 'The gallery has worked hard to find myriad quiet ways of connecting with the communities around it,' says Macdonald. As well as four new galleries, again doubling the SLG's exhibition space, the fire station contains two artists' studios, a new home for a local archive and, perhaps more surprisingly, a cookery workshop. Trimly fitted out with elegant grey cabinets and wooden surfaces, the kitchen feels far from an institutional structure and more like the welcoming core of a well-appointed home.
This homeliness also chimes with the building's original layout, in which two floors were kept for resident firemen. Echoes of these past lives reverberate in the building's fixtures. A series of cone-shaped lamps are brass transpositions of the original Victorian fixtures. The entrance hall retains its original industrial brick floor, hard-wearing to allow horses to pass through to the now-demolished stables. Other flooring is made from reused beams from the structure, finished with an imperceptible varnish, while a new staircase, Escher-like in its right-angled turns, is fashioned from painted steel, characteristic of 19th-century public buildings, and pre-cast concrete treads. 'There is a lot of care taken to think about how materials and spaces physically draw people in, and let them linger,' says Macdonald. Outside, over the cobbled court, 6a has restored the original glass lamp, engraved with the word 'engines'.
Macdonald describes working on art galleries as a delicate balance. 'Artists nearly always respond to the natural character of a space and are quick to spot if it's false,' she says. 'However, we also have to be very mindful of reducing visual material dialogue and general building clutter to allow artworks to be the foreground of gallery spaces.'
6a has won considerable acclaim for its residential and private projects, but visual art spaces comprise the recurrent theme of its practice. Presently, it is working on two other galleries: one in New York, and MK Gallery in Milton Keynes. 'The SLG and MK Gallery are projects with very different languages,' Macdonald says. 'The fire station was like placing another piece in the jigsaw puzzle. Milton Keynes is creating something where there was nothing before.' The new structure necessarily draws on history in a more generalised way than Raven Row and the SLG. Stainless steel facade panels will evoke the town's 1960s grid structure, while an enormous circular window looks out onto the adjacent park — an echo of Milton Keynes' garden city ethos, and a gesture aligned almost perfectly to catch the midsummer sunrise.
---