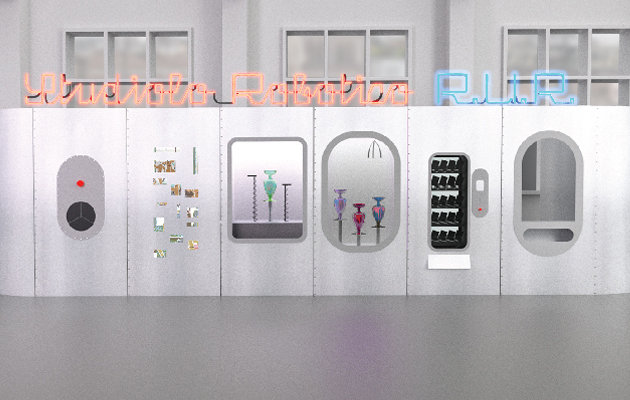 Image: Studiolo Robotico RUR by UMPRUM. Photos by Vykoukal, Vildová, Šemberová, Lešovská
Milan Design Week is one of the most important dates in the design calendar, with its sprawling range of installations exhibitions and presentations.
This year, Ventura Projects turns ten – but instead of looking back, it's looking to the future.
During Milan Design Week 2019, Ventura Projects will host the second edition of Ventura Future and the third edition of Ventura Centrale in the vaults under the Milan Central Station.
The last two editions of Ventura Centrale were applauded for rejuvenating the area around the train tracks, and this year it's bigger, expanding from nine to 16 vaults.
The second edition of Ventura Future has got a new venue in one of Design Week's most notable neighbourhoods, Tortona. Ventura Future expands across 3,700m2 and is home to a new partnership and collaboration with BASE Milano, the former Ansaldo industrial area that is now a creative hub.
Image: Insectology Food for Buzz by Atelier Boelhouwer. Photo by Janneke van der Pol
The exhibition will feature innovative designs focused on future visions by international designers, design studios, companies and academies, many of them referencing global current affairs.
One topic central to this edition of Ventura Future is bio design. Curated by Organisation in Design, with the support of the Embassy and the Consulate-General of the Kingdom of the Netherlands in Milan, the project 'Future (H)eart (H): 8 Dutch design visions for a liveable earth' explores ground-breaking new developments. It will take you into a world filled with concrete base flowers that help preserve the 'big five of pollination' by Matilde Boelhouwer; it showcases Kuang-Yi Ku's proposal for using synthetic biology to replace animal products used in traditional Chinese medicine; and it shows biodegradable urns by Nienke Hoogvliet that give our loved ones back to nature in a responsible way. All eight projects will show the latest developments in bio and conscious design.
As always, there will also be a selection of world-leading design academies. Ventura Future welcomes some new schools such as Institute of Industrial Design (Switzerland) and some frequent participants such as Central Saint Martins (UK), Royal College of Arts (UK), Design School Kolding (Denmark), UMPRUM (Czech Republic) and University of Iowa 3D Design Program (US).
Image: Aria, Come to Light by Luca Moreni and Roberto de Zorzi. Photo by Ivela Spa
During the third edition of Ventura Centrale the massive industrial warehouses under the Milan Central Station will once again be filled with installations by renowned international companies, design labels and studios.
The 16 vaults under the Ventura Centrale train station will this year be host to: Maarten Baas (The Netherlands), Aria (Italy), Noroo Group (Korea), AGC (Japan), Lavazza and Gufram (Italy), Rapt Studio (US), Sky-Frame (Switzerland), Lensvelt & Modular (The Netherlands, Belgium), Weltevree (The Netherlands), FREITAG (Switzerland), TAKT PROJECT (Japan), Yamaha Corporation Design Laboratory (Japan), Cosentino (Spain), Humanscale (US), DNP (Japan), dpot modern and contemporary Brazilian furniture (Brazil).
Ventura Future takes place at BASE Milano and all the information and tickets are available here. Tickets are 5 euros and provide access to the Ventura Future and BASE exhibitions and to the evening events of BASE throughout Milan Design Week, from 9 – 14 April.
Ventura Centrale takes place at Via Ferrante Aporti 9 and is open 9 April-13 April, 10:00-20:00 and 14 April 10:00-18:00.
---