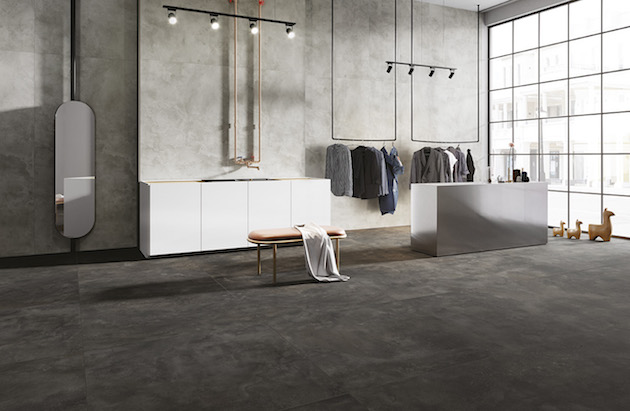 The Relate collection, which comes in two varieties. Courtesy Ceramiche Caesar
Ceramiche Caesar believes that innovation is creating for tomorrow with what is available today. For 30 years, Modena-based Ceramiche Caesar has been synonymous with cutting-edge products characterized by continuous aesthetic research. Designers and professionals searching for contemporary design solutions can expect to find design versatility that avoids the ordinary.
Every 'Made in Italy' porcelain stoneware collection from Ceramiche Caesar aims to respond to the increasingly heterogeneous national and international markets.
Ceramiche Caesar's new collection inspired by lava stone, named Core, is presented in 5 different colours and was created to offer a cutting-edge vision for spaces and modern design.
The Core collection. Curtesy Ceramiche Caesar 
The Relate collection transforms contemporary architectural trends into two different surface looks: the 'Brush' version has an iridescent surface with sinuous patterns and offers elegance while 'Flame' allows dynamic changes in colour and bold burnished effects.
Caesar's range is the result of a modern interpretation of the past. The new 'Be More' collection, in fact, has been created by restyling the More series. It is a perfect mix of aesthetics and reliability, a contemporary accent that has the ability to step beyond temporary trends.
Technical solutions 
Caesar's has also produced technical solutions for modern design and outdoor environments. The Aextra20 range of products for outdoor environments now boasts 47 colours and a brand new 90×90 cm square size, as well as a substantial extension of the range of 60×60 and 40×120 cm sizes. The Project Evolution series includes 120×278 cm sizes, with a thickness of 6 mm, and with a silk finish, characterised by a smooth layer on a matt surface.
Versatility and avant-garde are not just hallmarks of Caesar's products but also of the company's exhibition spaces worldwide. One example is the Urban Lab showroom in London (17 to 18 Great Sutton Street, London, EC1V 0DP), which since 2015 has become a meeting place where ideas and projects take shape – a point of reference for architects and designers looking for a partner able to interpret and make their projects come to life.
This is an advertisement feature
---