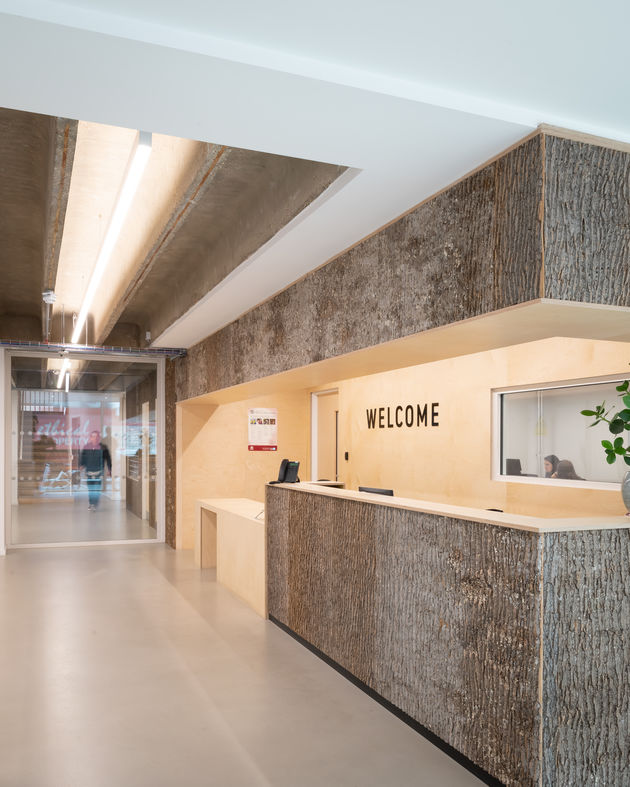 Inside the Green House project in Cambridge Heath. Photo by Jim Stephenson
Timber construction is quick, clean and easy – and is one of the quickest ways to improve the construction industry's sustainability, says Kirsten Haggart of Waugh Thistleton
The world is in the midst of a housing crisis with a global mass migration to cities. The UN predicts that 66% of the world's population will be resident in urban areas by 2050. In order to deal with this flow of people, we need to address the way housing is delivered in our cities, with more high density, mid-to-high rise buildings required. The implications of this in terms of climate change are considerable while urban structures are predominately built in steel and concrete.
The production and use of cement is responsible for approximately 8% of the world's CO2 emissions, a figure that will increase if urban construction trends continue. At the same time, a gradual decline in construction productivity over the past 50 years presents further challenges in meeting the growing demand for homes.
Timber, nature's own building material, is both replenishable and sustainable, offering an alternative way of meeting the growing housing demand. As trees grow, they sequester carbon within their very fabric, essentially creating a carbon store. Therefore, if we build in timber, as opposed to traditional materials with high levels of embodied carbon, we can save an average of 40 tonnes of CO2 per dwelling.

Stairs in the Green House. Photo by Jim Stephenson
At a global scale this can make a vital difference. Traditionally in the West, timber has not been used for high density buildings. However, the recent development of mass timber products has enabled timber to compete structurally at scale. Highly engineered products that overcome many of the issues associated with traditional timber frame have put wood construction back in the running.
The benefits are clear. Building in timber is quick, clean, and easy. It can be achieved with a measured accuracy and lack of noise, waste, or need for material storage space. It has notable benefits in terms of warmth, acoustics, and structural efficiency. In a world ever more concentrated in urban areas, timber is the basis for safe and healthy cities composed of exceptionally designed and responsibly constructed buildings. The only surprise to us is that the uptake in mass timber has not been faster.
Historically there has been a lack of interest in developing construction technology – a serious problem for our field, and for the planet. If one reflects on the massive demand for housing, the fact that our industry is responsible for such huge energy use and consequent carbon emissions worldwide, and the tremendous influence our industry has over the overall GDP of all nations, the question is obvious: Why are we not encouraging governments and the building industry worldwide to invest in solutions that will solve the problems that affect our society as a whole? And beyond that, can we afford not to?
Exterior detail of Murray Grove. Photo by Will Pryce
Waugh Thistleton Architects have believed in the benefits of structural timber construction since 2003 when they happened across the material while working on a small house extension in a restricted urban site. We haven't looked back. Murray Grove, our CLT mid-rise residential building in Hackney, which was completed in 2009, was the first building to use engineered timber at scale in the UK, and was, at the time of completion, the tallest engineered timber residential structure in the world. The entire structure above first floor is comprised of CLT panels, with all walls, floor slabs and lift cores formed in solid timber, acting together like a honeycomb, providing a very stable and efficient building. It took just nine weeks to build the timber superstructure and the embodied carbon within the timber is -505 tonnes CO2e (carbon dioxide equivalent). This project proved that CLT could work at scale and spearheaded a global movement in the use of engineered timber as a viable alternative to concrete and steel.
Since the completion of this groundbreaking project, the firm has pushed boundaries in the design and development of commercial and residential timber buildings. The recently completed award winning Green House for Ethical Property, demonstrates how the tide is turning. Ethical Property, one of the UK's largest social businesses recognise that sustainability in property development has moved from 'nice to have' to 'need to have' status.
Starting from the principles of 'reduce, reuse, recycle', the design retains the frame of the previously derelict 1960s concrete building and uses engineered timber to add a six-storey rear extension and atrium, creating 7,050m2 of modern, flexible workspace. A glazed extension facing onto Cambridge Heath Road provides a new frontage and passively regulates noise and ventilation to the offices. A glazed rooftop extension maximises internal space and maximizes natural light, while a new central CLT core and staircase connects the old with the new.
Murray Grove from a distance. Photo by Will Pryce
Orientation, recycling and the intelligent use of sustainable materials were integral to the building achieving a 50% reduction in CO2 emissions in use relative to the notional benchmark, and the structure itself has removed 1,400 tonnes CO2e from the atmosphere.
The Paris Agreement goals are to combat climate change and to accelerate and intensify the actions and investments needed for a sustainable low carbon future. Our responsibility as architects to lead the construction industry towards this future in an innovative and creative way has never been more significant. Waugh Thistleton Architects continue to advocate for a change in mindset from within the industry. The practice is a founding member of Architects Declare, a manifesto for sustainable architecture, and we are working on a €10 million research project which has the objective of making engineered timber the mainstream choice for construction across the continent.
It really is simple. If we create more demand for trees, this will drive growth of the forestry industry. The more trees we have, the more CO2 we can remove from the atmosphere. And through the harvesting and use of wood in buildings we can create a long-term carbon store and have a positive impact on the health of the planet.
---