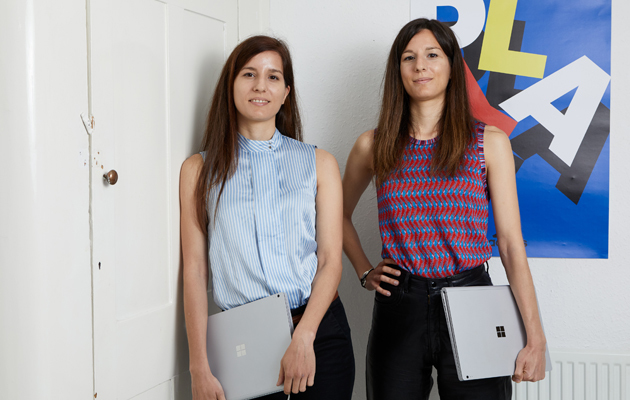 The graphic designers tell us what Japanese animation has to do with getting sunburnt
"Recognising the need is the primary condition for design." Among the many aphorisms attributed to Charles Eames, this idea of design existing to provide for needs, to solve problems runs through many schools of thought – the Bauhaus, celebrating its centenary this year, being one of them
At this year's D&AD festival, Microsoft has taken the concept of solving problems via design and given it a playful twist, commissioning five designers, artists and inventors – including paper artist Hattie Newman, inventor Dominic Wilcox and skate artist and illustrator Gauran Thakali – to solve 'everyday problems' in a creative way.
The five creatives spent six weeks coming up ideas, designs and prototypes for the project and exhibition 'Microsoft Extraordinary Solutions for Everyday Problems', on display at the Truman Brewery until 23 May. Some of the problems looked at include being distracted by your mobile phone, not being able to see at gigs, and – the problem the Yarza Twins tackled – sunburn.
The final design, turned into a prototype
Icon found out how the Yarza Twins – Eva and Marta Yarza, graphic designers originally from Spain, now based in London – took on the problem of sunburn, coming up with a colourful idea with a surreal twist – colour-changing sun cream.
The twins first came up with the potential solution to one of the causes of sunburn – people not realising that they aren't protected from the sun's rays. Their initial concept of colour-changing sunscreen gained form and theme around the colour blue, with the idea that the cream – a normal sun cream by sight – would change colour and become blue when you needed to reapply.
The colour and the idea then shaped their concept for the container – a tall, thin blue bottle with a label of red swirled letters, with something more in common with high-end drinks receptacles than the traditional sun cream. The shape and typeface came from several iterations pinned up in their studio, and it became a slightly psychedelic animation used to demonstrate their design.
Iterations from the Yarza Twins creative process
"As we chose to create a surreal product for our extraordinary solution, we decided to take inspiration from 80s Japanese cartoons such as Oliver and Benji and Doraemon," the sisters explain, adding, "We loved mixing in some trippy scenes with other normal ones."
In their process, the pair tend to go straight to digital form, in this case using the Microsoft Surface Book 2 after making only a few basic scribbles on paper. They also split their work fairly evenly, they say, both getting hands on with typeface and pattern after coming up with ideas together. "We normally have a big brainstorm together before we put our hands on any project. We think that collaboration is the key to archive better and richer ideas. For example, you can have an idea, and another person can give it a special look that will make it viral, or knows how to visualize it," they say.
The pair have an eclectic range of design references, evident not only in their project for D&AD, but also in the other work, for instance in a typeface for Adidas that subtly incorporates the brand's three stripes in bold primary colours reminiscent of mid-century design, or the DIY-esque, cut-and-paste style characters created for a range of Smirnoff bottles.
As well as the Japanese cartoons that they mention as reference for their sun cream concept and animation, the sisters include other international auteurs on their list of inspirations – artists and directors with unique and striking styles, including Yayoi Kusama and Pedro Almodovar, graphic designer Stefan Sagmeister and photographer Filip Custic.
For a team who are also related, the twins say they rarely disagree – and they find they have to both be able to take on designing and creating as their workload increases. Do they have a dream project they're waiting for? "Perhaps a rebrand of a huge brand or the design of a whole campaign from the beginning to the end. Our dreams are very big!"
The Yarza Twins' design will be on display at the Microsoft Surface Everyday Solutions Exhibition at the D&AD Festival 21-23 May at the Truman Brewery
---