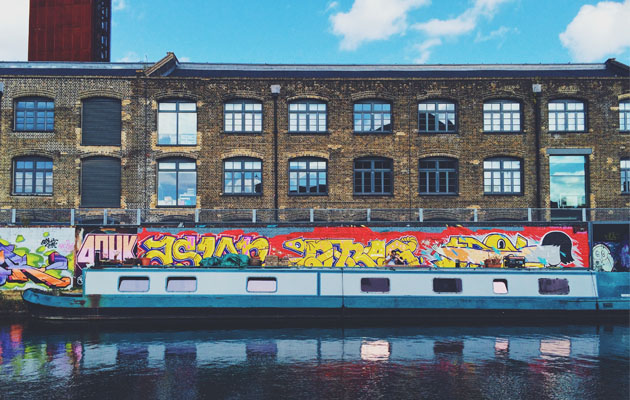 London Mayor Sadiq Khan today launched a new scheme designed to protect creative spaces in the capital by securing land and property specifically to house artists' studios.
The Creative Land Trust will be an independent body, launched with public and philanthropic funding, designed to provide artists with affordable studio space in London.
"Creative industries make up £47 billion of our economy and provide 1 in six jobs in London," the mayor said at the launch event, held at the Stirling Prize-winning Bloomberg building. "Culture is the golden thread that runs through out social fabric. It showcases to the world who we are and what we stand for. But the sector is being squeezed."
London's rapidly rising property prices have made life difficult for many artists, who rely on affordable space in order to pursue their work, and often end up in workspaces that also serve as their homes. Data from City Hall shows many studio spaces are at risk of closure because the organisations running them rarely own the freehold of the site. Speaking at the launch, Khan said that London had lost almost a third of creative space in the last decade, and the Creative Land Trust was an extension of existing efforts by City Hall to maintain London's creative status.
In December 2018, the mayor announced the creation of London's first Creative Enterprise Zones, providing £11 million to provide training, education and affordable workspace in certain boroughs. One of those areas was Hackney Wick in east London, home to a large concentration of artists, but also an area of rapid gentrification and rising house prices. Stour Space, a multifunctional space that provides subsidised artists' studios in the area, is one of the major organisations in Hackney Wick supporting the creative sector.
At the launch of the Creative Land Trust scheme at the Bloomberg building, Juliet Can, the co-founder of Stour Space, spoke of the challenges the organisation faced keeping the space going for the past decade.
"We've always had fragility, being on short leases of two to three years, but tried to be unwavering in what we charge for arts spaces. When we had chance to buy our building a few years ago, it was so difficult to get investment, people saying "art doesn't make money."… The Creative Land Trust would allow us to plan long term, sustain our support for the artists."
The Creative Land Trust is launching with £4 million funding from City Hall, £2 million from the Arts Council, a body that champions the creative sector in the UK, and support from Bloomberg Philanthropies. The aim is to secure 1,000 affordable workspaces in its first five years, and to encourage investment from developers, local authorities and private sector companies by showing the fiscal and cultural impact of art.
The scheme has been inspired by San Francisco's Community Arts Stabilization Trust, where artists faced similar problems with rapidly rising rents. According to figures from City Hall, 79 percent of studio spaces were charging over £11 per square foot in 2017, compared to 56 percent of spaces in 2014; yet demand remains high, with nearly 14,000 people on waiting lists for spaces with 27 site providers.
Discussing the market value of art, Kate Bevin, former arts commissioner of New York and now head of Bloomberg Philanthropies' arts programme, highlighted the problem of tracking the number of artists and their financial impact, particularly those earning money from other work alongside their art. "Value tends to get measured in things you can count – venues, point of sale – but not in individual artists…" she said, adding, "But not everything that counts can be counted."
---