A design competition, hosted by Bompas & Parr and the Design Museum, looked to create novel ways to encourage and add functionality to hand sanitising. These are the winning concepts…
Inflated demand saw resources of hand sanitiser become scarce at the beginning of the COVID-19 pandemic and, in the UK, it became a national effort to replenish stocks of these antibacterial gels, specifically for key workers, as many distilleries turned their hands to production.
While the other scant commodity of the outbreak, toilet paper, has always always been an in demand product, hand sanitiser is something that perhaps once was considered non-vital. In a post-coronavirus world, this is something likely to change, especially within businesses and public spaces.
With that in mind, Bompas & Parr, first known as jelly-makers but now multidisciplinary design studio, put out an open-call to the masses at the start of the crisis for designs that heralded the evolution of hand sanitiser. With a number of categories to enter into, from sustainable and luxury designs to awareness concepts that promote hygiene, the winners have now been announced.
The winning entries, some of which you can see below, will be exhibited digitally on the Fountain of Hygiene website, with prototypes later to be displayed ay an exhibition at the Design Museum at an undisclosed point when the museum re-opens.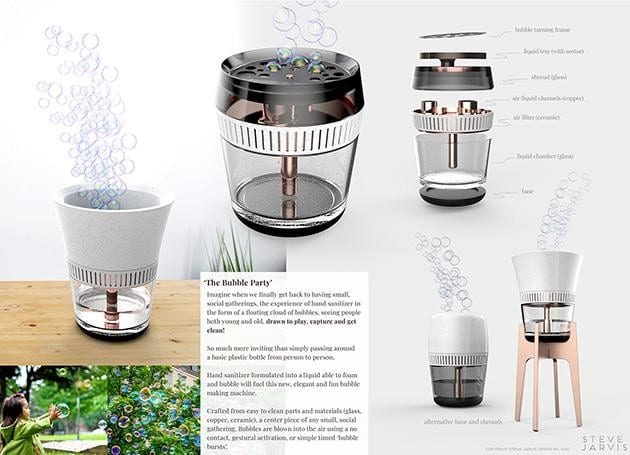 Winner: Industrial Design – Steve Jarvis 'The Bubble Party'
A bubble blower may not offer the most efficient delivery method for hand sanitiser, but this concept places the product at small gatherings, allowing santising to be a continuous process, but also a background task.
Winner: Child-directed design – Kate Strudwick, Amos Oyedeji, Alexander Facey & Nicole Stjernswärd 'Paint Your Hands Clean!'
Optimised for self-application and featuring a colour-changing formula, this fun concept is squarely aiming at children enjoying the rituals of hand sanitising.
Winner: Luxury design – Sally Reynolds 'Step One'
The water fountain, a relic of a pre-pandemic world that seems less likely to survive, has been re-imagined as a public, hands-free dispenser of sanitiser, with the designer's trend-led product design appealing to the public's aesthetic appreciation to encourage use.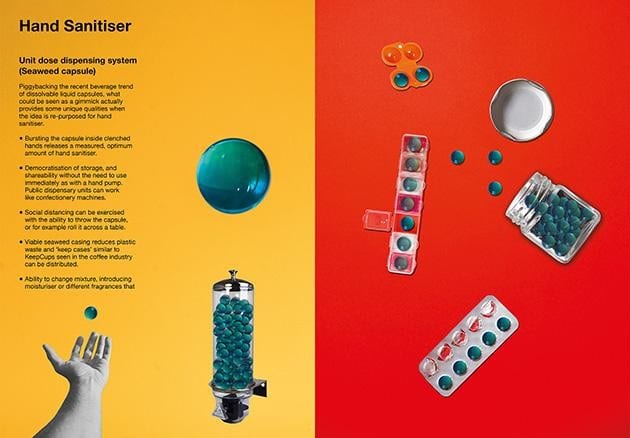 Winner: Sustainable design – Terry Hearnshaw 'Seaweed Capsule'
Not only does the viable seaweed casing concept reduce plastic waste, the format of these hand sanitiser pods has benefits that extend to social distancing. Bursting the capsule in hands ensures that a measured amount is dispensed, and this concept opens itself up to shareability without having to pass around a bottle of sanitiser.
You can see the other winners online at Fountain of Hygiene, where you can also vote for the Public Choice winner.
---