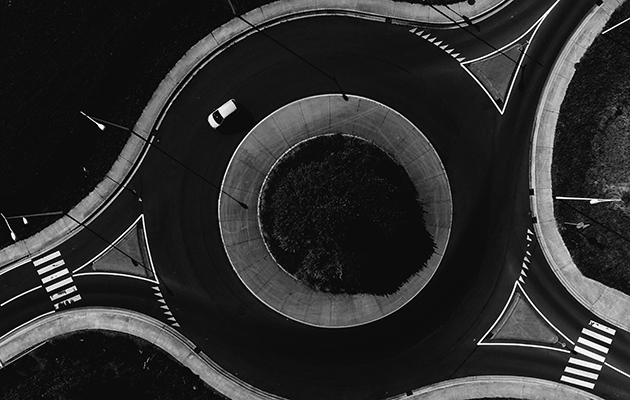 The inner city roundabout never made sense, writes
Peter Smisek

. It's no surprise that it has reached the end of the road

The modern roundabout is largely a British invention – which is surprising, since this country, and London in particular, plays host to some of the typology's more woeful examples.

The country's first roundabout was built in 1909 in Letchworth Garden City, but it wasn't until 1966 that the British authorities, backed by research conducted at the Road Research Laboratory near Slough, stipulated that cars already on the roundabout had a right of way to the cars joining in on the fun. At the time, planners and traffic engineers were also busy reconfiguring cities to better accommodate the motor car, and hey presto! The roundabout, and its larger sibling, the gyratory, has become an aggravating fixture in towns and cities up and down this sceptred isle.

To be fair, the roundabout principle works wonders on smaller junctions in quiet residential areas or suburban industrial parks which have a relatively low level of traffic. In cities, especially large, unruly ones like London, gyratories become unholy car-clogged pits which necessitate the reintroduction of traffic lights, the one thing they were meant to eliminate.

Take some of the great urban roundabouts in Europe – Place Charles de Gaulle in Paris, or Großer Stern in Berlin. Both are prototypical – perfect circles – one in the midst of a city, the other in a forest, and within both of them a highly charged monument, creating a much-needed vertical element at the heart of the centrifugal movement of vehicles. Even New York's Columbus Circle, despite being surrounded by a morphologically diverse urban territory, has a memorial in its middle, a fountain along its edges, and offers seating and views down Broadway, Central Park West and 8th Avenue. And while none of these is the most pleasant of spaces, they offer a rather exhilarating vista of the city and the rapid movement of turning cars.

This cannot be said for London's centrally located gyratories. They've either been squeezed into existing street patterns with little regard for legibility, or, conjured up on large, previously non-circular junctions (like Aldgate or Highbury Corner).

Adding cyclists to the mix only makes things worse, since, rather than taking them out onto a segregated path along the outer edge of the road, cycle paths have been just added to the maelstrom. Thankfully, public realm improvements, accelerated under Boris Johnson, mean that these ill-judged junctions are gradually disappearing: a sure sign that a broken clock is right twice a day.

The main reason I'm not sad to see them go is that British gyratories were almost never spatial, but wholly functional propositions. Looking down from Paris's Arc de Triomphe, the city reads like an open book. In London, you'd be left with the impression of a picturesque maze at best, while at worst it feels like you're confronted by the buildings' awkward edges.

The capital's most architectural roundabouts were once Piccadilly Circus and Trafalgar Square. The former is hardly a circus, but at least the Shaftesbury Memorial Fountain (aka Eros) acted as kind of symbolic centre in the midst of this picturesque imperial grandeur. In the 1980s, the junction's centre moved aside for the rather confused jumble of avenues that now takes its place. Thankfully, the tube station below still retains some of the clarity that's been lost above ground.

As for Trafalgar Square, the side by the National Gallery has been closed off since 2009 and is now largely populated by street performers. Strictly speaking though, there's still a smaller roundabout located on its southern edge – a loss of nerve if there ever was one.

There are, however, two roundabouts that I'm sad to see go. Old Street Roundabout makes sense, and its central space was already an attraction of sorts. It could have been the futuristic-picturesque descendant of Piccadilly Circus. And of course, there's Elephant and Castle, which is one of the few places in London where a number of wide roads – some of them even straight – actually converge in one spot. It even has a memorial to Michael Faraday, admittedly tragically off-kilter and inaccessible, in the middle. It has now been lobotomised by a new crop of traffic engineers and planners, its rather bland friendliness probably more palatable to the forces aiming to gentrify the area.

Perhaps it's simply time to admit that inner-city roundabouts in Britain never really made sense – they impose and demand a particular geometric order seemingly foreign to the higgledy-piggledy high streets that constitute British towns' traffic arteries. Gyratories and roundabouts should be let to flourish on the outskirts instead. It is a crime against design to have tried to pretend otherwise.
---