Calvi Brambilla won the Best Display at Salone 2017, with their efforts for Flos. Photo: Tommaso Sartori
Winner of the Best Display Award at the Salone del Mobile 2017 for the monolithic Flos stand, design studio Calvi Brambilla is back with even more pavilions and big ideas for Milan this year, writes
Rita Lobo
Standing like a monolith at the centre of the exhibition at Salone del Mobile 2017, the Flos pavilion was less a stand and more a diminutive brutalist conception. It was impossible to miss, a mineral island in the exhibition hall. After a dark, low-ceilinged entrance corridor, rooms expanded into cavernous concrete double-heighted spaces, each product displayed as a piece of art.
Calvi Brambilla's Flos at Euroluce 2017. Photo: Germano Borrelli
It was exhibition architecture ramped up to the max, and won the Salone Milano Award for best display. The brains behind it, Calvi Brambilla, is one of the most in-demand studios in Milan. In 2017, the duo worked with seven different brands at the Salone. This year it's eight. 'For every single company we develop a specific marketing strategy and a unique project: in some way we play a role very similar to an agency designing a campaign,' says Paolo Brambilla, one half of the studio. To avoid conflicts, 'each one is in a different market niche'.
Since the studio was launched in 2006, Brambilla and partner Fabio Calvi have been quietly building up a name for themselves as innovators in exhibition architecture and product design, as proved by the Flos pavilion last year. Though the duo had designed a couple of exhibitions before, it was their first partnership with Flos in 2008, designing its Light+Building stand in Frankfurt, that really kicked it all off. It's a partnership that endures to this day. 'Fabio used to work on his own,' says Brambilla. 'He had been working for around one year when he got in touch with Flos and Olivari, so he asked me to help. At the time I was working in a big architecture practice, but I was ready to jump right in.'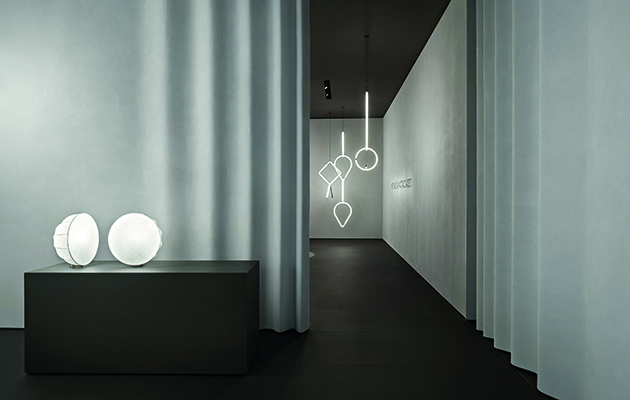 Calvi Brambilla's Flos at Euroluce 2017. Photo: Germano Borrelli
'Last year Flos required a large stand to show some huge products, bigger than ordinary ones, so we proposed a temporary architecture to host them,' says Brambilla. 'The pavilion stood like a monolith in the middle of the hall, like a brutalist building with just some narrow openings. We added a surreal touch, giving some walls a curtain-like shape. It broke the rules because walking through it people had the feeling of visiting a museum more than a commercial exhibition.'
Exhibition design is unique in that the studio is brought in exclusively to represent the interests of the client. It's one of the more commercial segments within the industry, but Calvi Brambilla has learned to navigate it with aplomb, producing outstanding commercial spaces that are still bursting with creativity and the studio's signatures. 'The exhibition design must always be perfectly consistent with what it contains, or with the brand that it represents,' says Brambilla. 'Those projects where the author's personal touch prevails could be failures. On the other hand, if the product is not interesting, even though the set design is well done, the result will be weak.'
The Zanotta pavilion was another stand- out in Milan last year. When the studio were conceptualising the space, they were adamant that the stories behind each piece of Zanotta furniture would shine through in the design. Brambilla was also aware of the cultural weight of the pieces, and wanted to allow them to speak for themselves. 'Lots of Zanotta pieces are hosted in design museums because they changed the way we live: just think of the 1968 Sacco armchair, which represented a revolution in the living room,' he explains. 'When we design for them we want to focus more on life than on lifestyle.'
Pedrali stand in the Salone del Mobile 2017 by Calvi Brambilla
'The idea for the set-up at the last Salone del Mobile was that each everyday act, like reading a newspaper or lying on the sofa, turns into a poetic gesture if you're surrounded by objects with a soul.' Wandering around the pavilion was like stepping inside a family home and exploring, unseen, thanks to the clever installation of life-sized videos of people interacting with the furniture.
Such has been their success in Milan that Calvi Brambilla's clients all seem to keep coming back for more. As well as Flos and Zanotta, in 2018 they will be working with bathroom brand Antonio Lupi, Tonelli, Pedrali, Pianca and Olivari, and for the rst time with Ceccotti and up-and-comers da a. 'We don't mind if a company is big or little,' says Brambilla. 'Some companies call us because they realised they need a revamping, others because are start-ups and want a smart solution for their exhibitions. What fascinates us the most is a brand with the right attitude.'
In true Milanese style, Brambilla is understandably tight-lipped about the studio's plans for 2018, but if past performance is an indication of future accomplishments, it'll be big. 'The concept for the new Zanotta showroom is to identify six characters representing six ways of being contemporary,' he says. 'The rst room is where an independent fashion maker lives, the second is the house of an urban farmer, the third of a globetrotter, and so on.'
Pedrali stand in the Salone del Mobile 2017 by Calvi Brambilla
This year, the studio is also branching away from Salone del Mobile and is involved in designing part of Triennale Design Museum XII. Every April, just a few days before the Salone, the TDM opens with a completely new exhibition, a different curator and a new set-up designer. This year it's a show entitled Stories. 'It shows one century of Italian design from the different points of view of five curators, so we have to work in a team with them,' says Brambilla. 'The director of the museum, Silvana Annicchiarico, was so kind to call us.
It will be a great challenge for us, but we're honoured to take part in such an important institution.'
---