Atelier lachaert dhanis's Palet Rug. Image courtesy of Design Museum Ghent.
Held at the Design Museum Ghent, the exhibition is part of the Flemish city's year-long celebration of the Northern Renaissance painter.
Jan Van Eyck's Flemish Renaissance masterwork, the Ghent Altarpiece (also known as the Mystic Lamb), is finally on full public view following an eight- year conservation project. Ghent has declared 2020 the Year of Van Eyck, and the city's design museum is putting on an exhibition titled Kleureyck: Van Eyck's Colours in Design. We asked curator Siegrid Demyttenaere about drawing parallels between the old master and contemporary design practice.
Alissa Volchkova's Stone Age. Image courtesy of Design Museum Ghent.
ICON: How do you relate a 600-year old painting to contemporary design?
SIEGRID DEMYTTENAERE: As a painter, Van Eyck had incredible knowledge of physics, chemistry and perspective. He knew how light refracts in different materials such as glass or pearls, and how images reflect in metallic surfaces and mirrors. He painted not only with an artistic approach but also with this knowledge – he painted with light. If you look at the work of some contemporary artists and designers you notice some parallel thinking; they research how and why colour is perceived in different ways.
ICON: How did you select the designers for this show?
SD: All the designers in the exhibition have something to say about light and colour, in totally different ways. Some of them produce in-depth research, while others are thinking about colour restoration, the way colour can be an inspiration or how different manufacturing techniques can evoke new colour effects.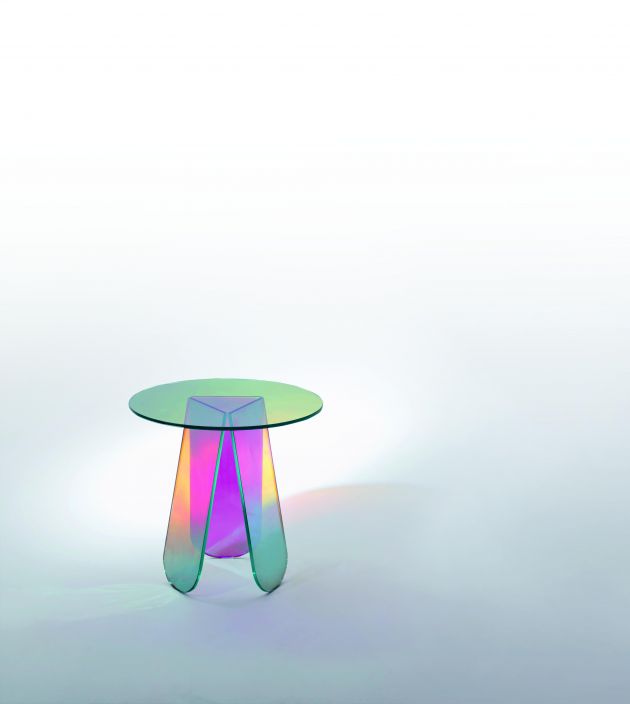 Patricia Urquiola's Shimmer 2 coffee table, for Glas Italia. Image courtesy of Design Museum Ghent.
ICON: Can you tell us more about how you organised the exhibition?
SD: The exhibition consists of three parts. The first consists of experience rooms in the historic Hotel de Coninck. For this, we asked designers to look closely at the work of Van Eyck and create an installation relating to colour and senses. The second part showcases existing research projects on colour by contemporary designers and artists. For the last part, called the Pigment Walk, curated with Sofie Lachaert, we zoomed into eight details of the Mystic Lamb and created ensembles of objects, each around one colour focus.
Kleureyck: Van Eyck's Colours in Design is open at Design Museum Ghent until 6 September 2020
---