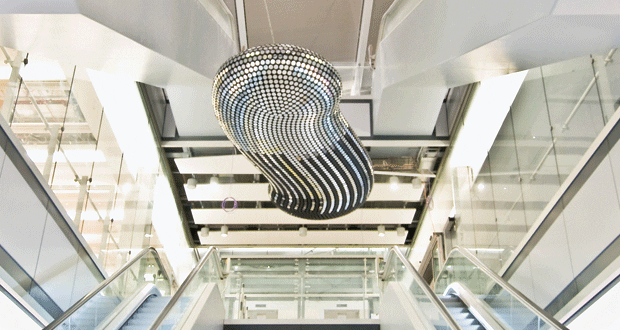 words Anna Bates
Terminal 5 has arrived and is home to a series of artworks by Troika, El Ultimo Grito, Christopher Pearson and Oona Culley. The works – curated by London-based practice Artwise – were commissioned by British Airways for six lounges at Heathrow for the airline's premium passengers.
Interactive design trio Troika produced Cloud, a five-metre-long structure covered in 4,638 dots that flip like old train station information boards. The result is a series of beautiful swarms of silver that run up and down the piece as seamlessly as a train of dominos, creating a lovely sound reminiscent of wind rustling through long grass (to watch the video, visit www.iconeye.com).
Troika has also installed a light wall showing the times of far-flung locations around the world – at the time of our visit it was 10am in the ancient Aztec capital, Tenochtitlán.
In another lounge, London-based designer Pearson projected the BA crest onto a stone wall. If you look at it long enough, you'll see it unexpectedly come alive to portray an ongoing jest between the lion and the leprechaun. Pearson also designed 3D etched glass screens with traditional British nature imagery such as oak trees and fairies.
To BA's credit, it gave an open brief to the artists and designers, so it's a shame to see the airline wasn't so forward thinking with the lounges' interiors, where it looks like Marks & Spencer has off-loaded its Home collection. It's an embarrassing backdrop to the cutting-edge artwork, and an unfortunate oversight given the £16 million budget for the lounge galleries.
The terminal, designed by Rogers Stirk Harbour + Partners, will open on 27 March and the artwork will be in place for six years.
top image Troika's Cloud. The flip-dots are silver on one side and are computer-controlled to move in different patterns across the sculpture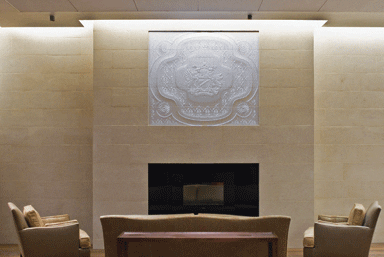 Pearson's Pegasus and the Winged Lion. The lion repeatedly loses its fight with the scheming leprechaun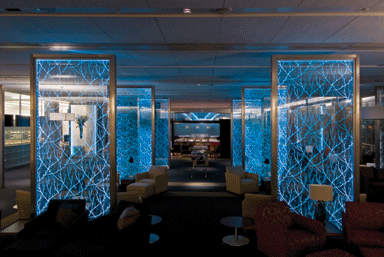 Christopher Pearson's Oak Seasons etched glass screens. The dense oak tree pattern harbours fairies and butterflies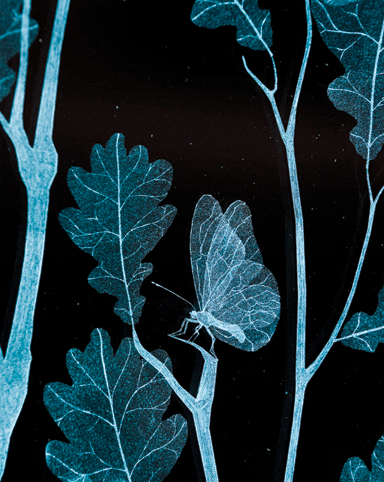 Christopher Pearson's Oak Seasons etched glass screens. The dense oak tree pattern harbours fairies and butterflies
---