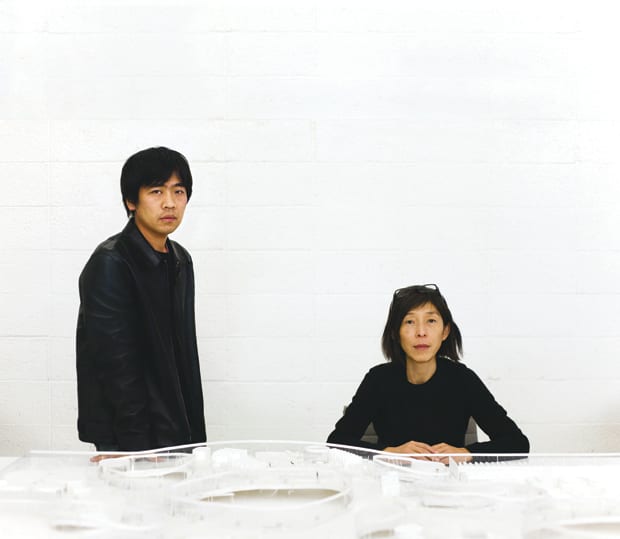 words Justin McGuirk
Kazuyo Sejima and Ryue Nishizawa, together known as SANAA, speak with one
mind.
They use the same words to describe their buildings, they sidestep the same questions and they are both politely contrary at the first sign that they are being pigeon-holed.But neither one knows what the other is saying because Nishizawa is in the restaurant of a London hotel in late October while Sejima is in their Tokyo studio in early November. If these were simultaneous interrogations in a crime thriller then the plot would be failing to thicken – their stories match.
Having to interview the architects separately is symptomatic of their success. In only a few years, they have embedded themselves in that select group of architects who always seem to be on the shortlists of prestigious international competitions. They have buildings underway in New York, Paris, Lausanne, Basel, Valencia and Almere – at least as many projects outside Japan as Tadao Ando and their mentor Toyo Ito.
SANAA's buildings are the architectural equivalent of a glass of water: clear and essential. Whether you describe them as minimalism without the dogma or functionalism with a heart, they are proving to be a popular alternative to the fanfare of the international icon mongers. And since Sejima and Nishizawa take it in turns to travel, it's not easy to get them in the same place at the same time.
In London, my conversation with Nishizawa is stilted – it's hard to tell whether this is his reticence or his English – but one thing leaves a strong impression on me and that is that he never of his own accord talks about the form of SANAA's buildings. There are none of the haughty references to "space" or "purity" that you'd expect to accompany a CV full of white boxes and glass walls. More often than not, he talks about people. "With a museum, you don't know which kind of people will come: very aged people can come, very small kids can run into the building. This is one thing which is wonderful with a public building." It is this aspect of the work that I have in mind as I approach SANAA's studio in the Shinagawa district of Tokyo.
There are no signs saying "SANAA" on the brick warehouse building, which appears to belong to a carpet manufacturer. But, sure enough, up a metal staircase is a room full of young architects sitting at computers or gluing perspex and paper models together. Sejima herself is petite and frail looking and, despite being 50, looks girlish in her biker boots and denim mini skirt. Leaving the studious atmosphere, she shows me into another room in which models are piled haphazardly on tables and model-making detritus litters the floor. At the point where the mess becomes impassable she says, "This is Nishizawa's corner."
From this studio Sejima and Nishizawa run independent practices, as well as the collaborative SANAA, which stands for Sejima and Nishizawa and Associates. They met in 1989 at the office of Toyo Ito. Having apprenticed under Ito for six years, Sejima had already gone on to set up her own practice but was still going back to visit friends. "I found her in Ito's office very late one evening and she looked very active and very positive. I felt some big potential and that I would like to work with her," says Nishizawa, who is ten years her junior and was still a Masters student interning with Ito. It wasn't until he had worked for her for five years, and decided that he wanted to set up his own practice, that she suggested collaborating.
That was 1995, and Sejima was already well on the way to establishing her reputation. Her 1991 Shaishunkan dormitory was used on the cover of the catalogue for MoMA's 1995 exhibition Light Construction, and she was starting to get invitations to competitions. Together, Sejima and Nishizawa went on to build a series of buildings so spare and light that they appear to float, such as the O-Museum in Nagano (1999). Their 2003 building for Christian Dior on Tokyo's fashionable Omotesando is a ghost, a glass tower with a white-striped perspex lining that makes it look soft and ethereal. But far more ambitious was the 21st Century Museum of Contemporary Art in Kanazawa (2004). This one-storey building was arranged more like a town within a circular glass wall, and was radical in the way it completely freed the galleries from any sequential or didactic route.
SANAA's architecture is distinctive without resorting to signature form-making. Their only forms are those of basic geometry – circles and squares. There appears to be no expressive urge in them – no egotism. There are no textures or colours, no diverting details, no sense of weight or mass. Everything is stripped away so that what matters most are the plan and a sense of clarity.
Sejima has described it as "designing from the inside out", and she cites Rem Koolhaas as an influence: "His sketches encouraged me to believe in the possibility of architecture. I didn't analyse him precisely but I just felt a lot of freedom from his work."
SANAA is building prestigious commissions in what are some very privileged contexts. Besides the New Museum of Contemporary Art taking shape in Manhattan, it is building an extension to the Louvre outside Paris and it recently completed a business and design school amid the famed Bauhaus coal plant of the Zeche Zollverein, in Essen, Germany (see icon 040). By comparison, sprawling Tokyo, where they have only a few buildings, "doesn't have so strong a context". So I ask whether working abroad more than at home liberates them from the expectations of a distinctly local architectural culture. "Of course we are Japanese, and we have some tendencies, but at the same time we think it's maybe better to try to learn from every area," says Sejima, after drawing on one of the interview's many cigarettes.
This question of "Japaneseness" is central to SANAA's appeal. The building in Essen is emblematic of how SANAA can deploy the delicacy of traditional Japanese aesthetics even while evoking the mass of the surrounding industrial modernist relics. The way the practice managed to make the concrete walls so much thinner than the German construction team thought possible – achieved by using thermal water instead of insulation – highlights one of the fundamental differences in how the Japanese see architecture. "Normally European architects think of a wall like this," she says holding her hands a foot apart. "But the Japanese think of it like this," she continues, halving the distance. "So the total weight of the architecture is so different from the beginning."
It would be easy to see SANAA's work as gossamer-light modernism, or perhaps, rather tritely, as Japanese modernism. In fact, it appears to represent a progression: it is neither about form nor dogma; the buildings' functionalism rests in the way they retain the clarity of a diagram, exposing the uses and the movement flows worked out in the plan.
On top of this rigour and the obvious aesthetic refinement, perhaps one of the reasons why SANAA is so in demand is because it manages to be absolutely contemporary but completely inoffensive – in other words, sensitive. "We are very interested in how to communicate with the surroundings," says Sejima. "Always the starting point for us is to check the volume of the building – without any shape. Depending on the surroundings, maybe it's better to make a very low building, or sometimes a very small footprint but a high building. These things we study a lot at the beginning of the project."
Sometimes this dialogue with the surroundings is achieved by dematerialising the building's surface. SANAA is known for designing clear-glass walls, a tendency highlighted by the recent Glass Pavilion for the Toledo Museum of Art. "Glass makes it easier for people to understand [a building] but at the same time what's interesting about glass is that it always changes appearance, it's not an independent material," says Sejima. While she delights in the reflective or refractive effects that can be achieved with glass, she is at pains to point out that transparency is an attitude to be applied whatever the material. Nishizawa is even more adamant on this point: "We are not people who are always trying to use glass. For instance, we made the school in Essen with concrete – there is not much glass."
On a table behind Sejima is a model of the building that will cement SANAA's reputation. The learning centre for the École Polytechnique Fédérale de Lausanne (EPFL), in Switzerland, is a new kind of building. The whole structure, which in itself is like a small campus, is a one-storey slab undulating into hills and valleys and perforated with open-air atriums. What is absolutely radical about it is the way that the different zones are all completely open across this landscape, divided not by walls but by topographical horizons. "You can feel a very huge space but you cannot see the whole area," explains Sejima, referring to how the floor rises up to cut off the view. Like the museum in Kanazawa, the EPFL building can be entered from a number of approaches, and the routes through it are free-form rather than channelled.
EPFL takes the practice's preoccupation with fluidity and transparency to its logical limits. Again, this sense of openness is a Japanese quality taken to extremes, one that, Sejima explains, derives from the tatami floor mat: "We have some tendency to feel space – even if there is no wall we have floor mats and so there is some space between you and me. In Europe, the space [is] made by the wall and by the chairs but the Japanese just put the mat."
EPFL is like one large mat, but it is also the most literal expression yet of SANAA's inclination to describe its buildings as "parks". "We can expect many people to stay together and at the same time find some personal space by themselves," says Sejima, echoing Nishizawa's description of the park, "anybody can join, anybody can stay."
There is nothing pretentious about SANAA. There is very little rhetoric attached to the fact that Sejima and Nishizawa make their buildings so transparent. They simply describe an intention towards a building in terms of people's experience of it, and you get the impression they would rather say nothing at all.
---