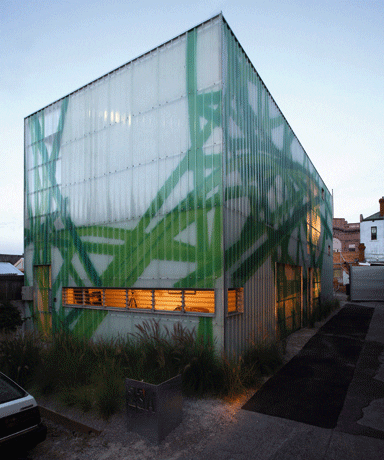 words Beatrice Galilee
"This is not about pretty pictures," says Michael Bellemo of Melbourne-based architecture and art practice Bellemo & Cat, which has designed its home and studio with a vivid printed facade. "It really works as a kind of billboard for our work," says Bellemo.
The building's translucent fibreglass cladding has a close-up image of one of the practice's recent public art projects, a huge timber volume called Cocoon, printed on to it. "The choice of colour for the image was in response to a neighbour who asked for a bit of greenery," says Bellemo.
The project, named Polygreen, is built on a small 7m x 16m plot of land on a narrow service lane made up of warehouses and garages in an inner suburb of Melbourne. The facade was informed by the fibreglass skylights of the many industrial buildings in the area.
The timber and steel-framed house is tall and spacious, providing four storeys using split-level decks joined by a slide carpeted with fake grass. The office on the ground floor is separated from the house by the garage and workshop. There is a north-facing glazed balcony on the top level, and the pattern penetrates the house in places. "For us, it's a bit like a contemporary stained-glass window," says Bellemo.
images ©Peter Hyatt/fabpics
top image The cladding was inspired by the industrial roofs of the neighbourhood
---