Why Mies van der Rohe's final building is perhaps his most iconic. By Beatrice Galilee
It was in Berlin that Ludwig Mies van der Rohe began and ended his career. His final work, the Neue Nationalgalerie, oversees the city as poised and resolute as a classical temple. With its steel roof soaring over razor-sharp columns and glass walls, it is a pinnacle of industrial modernism, a sermon on the beauty of mass-produced design over bespoke frills. It was also a personal statement on the future of Berlin.
In September, inside the gallery's transparent square pavilion, artists, architects and theorists gathered to celebrate its 40th anniversary. There was discussion and debate, while on the steps in front of the gallery people buzzed around an open bar listening to live music. It was, briefly, a destination, and that is what Mies wanted. This was, after all, never a building about art.
With floor-to-ceiling glass windows on each of the external elevations and no internal walls, displaying painting and photography is all but impossible. In his early sketches, the art was shown on floating walls, suspended from seemingly nowhere. Spare a thought for the curators of the inaugural Piet Mondrian exhibition, who were forced to hang walls from the great steel ceiling to hold the paintings.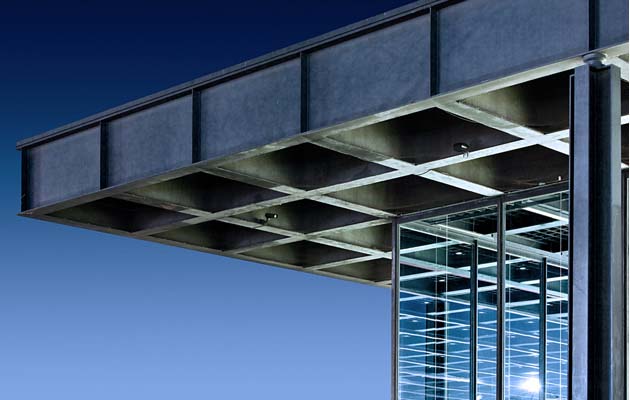 Neue Nationalgalerie roof detail. Photo by Andreas Levers, CC BY-NC 2.0
The main galleries of the museum are safely buried in the plinth below ground, leaving the glass pavilion of the Neue Nationalgalerie free to create one of Mies' enduring ambitions. He believed that public space didn't have to be dictated by architecture. By using simple forms of construction, he could make spaces free, open, light and transparent. He called it Universal Space. It is an architectural language of ultimate flexibility, unencumbered by internal structure. In the Neue Nationalgalerie, as with his faculty building for the Illinois Institute of Technology, this was achieved using a strict modular system and relies heavily on the stiffening strength of the huge roof, which is cantilevered onto external load-bearing columns.
When Mies left Germany in 1936 he had secured a place in architectural history with the stunning German Pavilion at the Barcelona world expo and his role as the last director of the Bauhaus. On his return 30 years later, however, he was a bona fide icon of modernism. His model of the immaculate skyscraper, the Seagram Building, was being duplicated all over the world, and he was in demand as a public figure.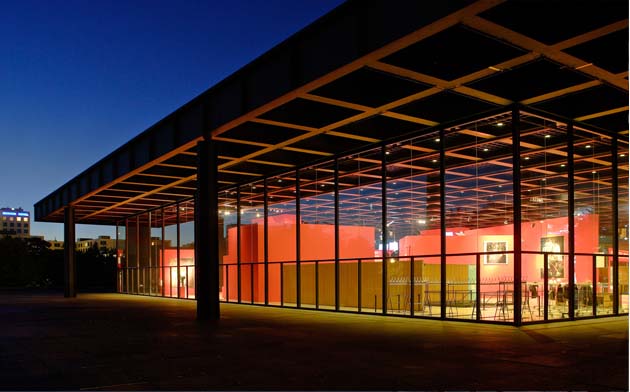 Neue Nationalgalerie. Photo by Wolfgang Scholvien, VisitBerlin, CC BY-NC-ND 2.0
In 1964, in the twilight of his career, Mies arrived in Berlin to find a city in pieces. Twenty years after the end of the war, the site for this grand institution of contemporary art was still a wasteland. A 12ft concrete wall severing the city in two marked the most recent building work. On this shattered site, making a public building with a clear panorama on all sides, that could be confident, optimistic and open – everything the Wall wasn't – was a remarkably powerful statement.
Forty years on, the gallery is surrounded by the peculiar environs of the newly developed Potsdamer Platz, in a strangely numb part of the city. Though a highly respected institution, it has struggled to assert itself as a successful or influential home for contemporary art. Perhaps its most successful exhibit to date was Mark Wallinger's Sleeper. Who could forget the site of that forlorn bear – or, rather, Wallinger in a bear suit – pacing the shiny marble floor, with star-like lights on a black gridded ceiling. His only company was the spectators pressing their noses up against the four glass walls that contained him. In this severe space, where passion is locked up in sharp lines and hard edges, it finally evoked some emotion. The irony is that inside this serenely modern building, the bear, representing Germany, was trapped.
This article was published in ICON's December 2008 issue
---