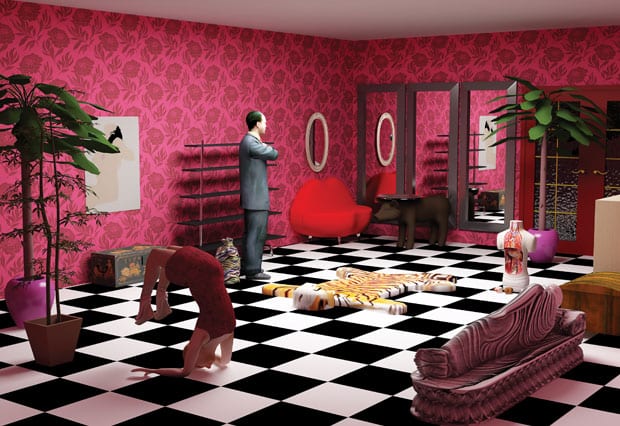 words William Wiles
Here comes the hive mind – a website with 30,000 users producing hundreds of thousands of interior designs using real furniture, voting for their favourites and blogging about design. It could be the future, says William Wiles
When you sign up to home decoration website Mydeco.com, you're asked to sum up your sense of style in three words. There's a random word generator to help you, and it creates and destroys whole aesthetics at the touch of a button: Aztec Palace Flash; Macho Slumber-pit Goth; Cheesy Caravan Explosion. It's easy to imagine that the interiors editors of some magazines and Sunday supplements have one of these randomisers on their desktop, ready to concoct a plausible-sounding trend for the purposes of creating that week's photo feature.
If those interiors editors feel a shiver down their spines, Mydeco might be the cause. Styled as "a furniture fix for the decorati", Mydeco is at core a website that sells furniture from a large number of high-street retailers, such as Heal's and The Conran Shop. But it promises much more than that, and has some prestigious backers: it was founded by Brent Hoberman, one of the creators of online travel agent Lastminute.com, and the board includes designers Terence Conran and Philippe Starck.
So what does it offer? There are 2 million products from 750 retailers, plus 150 independent designers selling their own creations through "design boutiques". On top of that there is an extraordinarily flexible "Room Planner Tool", which lets you create an interior and then try out furniture in it, choosing from a database of 53,000 3D objects. You can also create your own mood-boards, and test out how furniture looks by importing it into a photograph of your living room.
These are useful tools. But the really powerful thing on Mydeco is its social networking capability. In the networked future, the success of an organisation will be due in part to the communities it creates. Mydeco shows how these online communities – formerly faceless, voiceless consumers – can feed back into the creative process, and might end up transforming it. One year old this month, the site now has a vast body of user-generated content to review.
Once you've created your room, or mood-board, you're encouraged to share it with the community. Users can also keep blogs. There is page after page of user-created designs, their rankings changing in real time as users vote on creations. And if you like a room, every item in it is linked to a page where you can buy it. The 30,000 users have so far created more than 175,000 rooms: one user has made more than 400 in six months.
Mydeco's backers – notably the hyperbole-friendly Starck – say that the site will democratise design, putting Joe Bloggs on equal footing with the superstars and putting "authorities" in the media out of business. "Most of our best ideas don't come from clever thinky-tanks but from our community," says the site's mission statement in the web's usual populist rhetoric. Interiors editors, the hive mind is coming for you.
It's not true, yet, that Mydeco can democratise design – what it is doing is democratising interior design. But in the future, when rapid prototyping and mass customisation reach the high street, design will follow, and Mydeco shows what might happen.
And it is behaving in some surprising ways. So far the experience of the internet has shown that when a group of people is given powerful creative tools to use as they see fit, they will almost immediately start to test the limitations of the tools. The results are impossible to predict, but are highly likely to confound the system designers' expectations.
Take water, for instance. The Mydeco room-building software doesn't have the ability to generate water features or swimming pools. But users want these things, so they have built them anyway, using blue rugs (John Lewis, £183) to indicate water and white storage boxes for the tiled edge. The rugs and boxes have been uncoupled from their actual function and even their basic truth as objects. They are just images. Ceci n'est pas un rug, as Rene Magritte might say. This isn't a room-creation tool: it's an anything-creation tool.
This is a conceptual jump that Mydeco's users have already taken. A room called "The Whole World Wins", by prolific user Sylvia Ast, is a good example. Created to celebrate Barack Obama's victory in the US elections, the "floor" of this room is tightly packed with red, white and blue footstools, and some star-shaped dishes have been added, creating an American flag. "Congrats to Obama" is spelled out in novelty letter-shaped side tables. The room isn't "functional"; it's being used as a form of expression. Users make "happy birthday" rooms for each other. This is just the start. An extraordinary dialogue about objects, space and meanings has begun online, away from critical gaze and the design mainstream.
www.mydeco.com
---