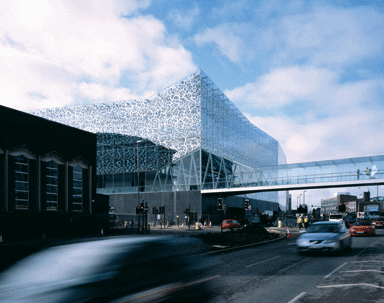 words William Wiles
"It's the place you go to buy a bedspread," says Foreign Office Architects partner Farshid Moussavi, explaining why this John Lewis department store in Leicester is wrapped in patterned fabric.
The decorative facade, which is a double layer of glass with a mirrored frit, acts like a net curtain. Inside, the pattern on the two layers lines up exactly, so customers can see out, but when viewed at an oblique angle from the pavement, the pattern becomes almost opaque.
This transparency was not needed for the second element of the scheme, a multiplex cinema. But the cinema is still clad in a curtain, of shining stainless steel. "We were looking for some sort of strategy that related John Lewis and the cinema, but allowed them to be different," says Moussavi. "Cinemas are also very much to do with curtains, so we used stainless steel to pick up on the reflective quality of the fritted glass, almost as if there is a block of reflectivity here that disintegrates into a pattern."
Thin sheets of steel were used so that they would buckle slightly, creating a quilted effect. Folded "pleats" help break up the mass. Reducing the impact of the huge development was important for FOA, so the side of the building that faces a busy dual carriageway was slightly bulged out, foreshortening it and echoing the curve of the road. This bulge was mirrored on the other side of the store, where it faces a pedestrianised street, creating "more of a medieval atmosphere," says Moussavi. "You explore the street as you go along it rather than taking the most efficient route."
In the original masterplan, this pedestrianised street was covered in glass to unite the development with the new Highcross shopping centre, which developers Hammerson and Hermes meant John Lewis to anchor. Instead, FOA has connected John Lewis to the Highcross with a bridge, and the inner street is left open, making the development permeable. A generous, bright public walkway at first-floor level links the mall to a second bridge across the main road.
This was FOA's first department store and has whetted its appetite for more. "At a time when online shopping gives you things at the click of a button, there needs to be more emphasis on the physical experience of the store," says Moussavi.
images Hélène Binet
top image The facade of the department store combines mirrored frit with a double layer of glass

The thin steel that clads the cinema buckles slightly, creating a quilted effect

The building bulges out into the street, foreshortening it
---