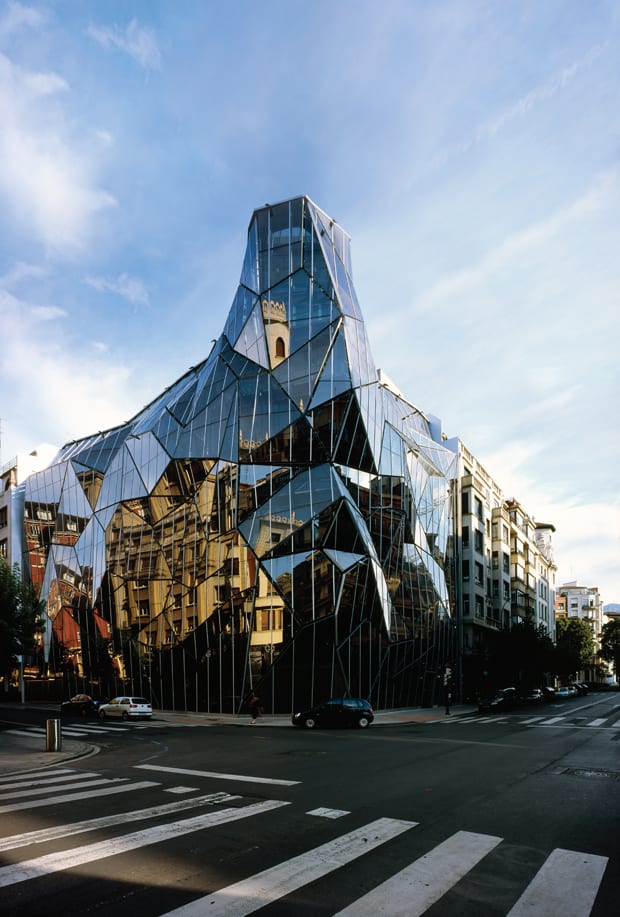 words Beatrice Galilee
There is little doubt that Bilbao is famous – and this fame did not arise from the 17th-century maze of narrow streets and public squares that make up this small city in the Basque region of northern Spain. It is a celebrity city because of Frank Gehry's spectacular 1998 Guggenheim Museum. Today, you couldn't blame the museum if it was feeling a little diva-ish about the arrival of the glazed, fragmented mountain of the Basque Health Department headquarters, designed by Madrid-based practice Coll-
Barreu Arquitectos.
At best this building is an attempt to discuss the difficulty of continuity and tradition in architecture in the home of one of the world's most famous and photographed edifices. At worst it is an overt, meretricious stab at icon status. Architects Juan Coll-Barreu and Daniel Gutiérrez argue that the building reflects energy and vitality and is celebrating the democratic healthcare system. However, its immaturity is clear. The architects have a website full of simple, clean, minimalist designs, which suggests this is not a manifesto on the potential of glass or an attempt to work out what a building would look like if it solidified halfway through an explosion, although they could easily argue both.
This structure exemplifies the problem with the "Bilbao effect", which is that lesser buildings have similar ambitions. It seems that the architects were overwhelmed by the new challenge that Bilbao now presents. Would they have designed something like this for a similar square in Madrid? More to the point, why would a ministry of health building try to be another stop on the tourist trail?
---