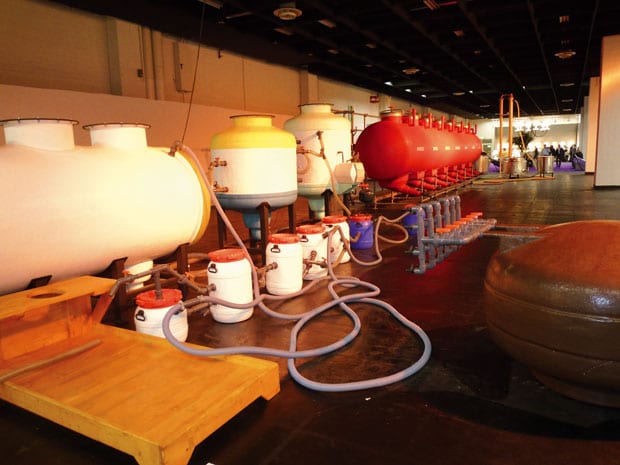 words Anna Bates
Cologne furniture fair had to work quite hard to keep talk of doom and gloom at bay. One attempt to keep things jolly was a compendium of Atelier Van Lieshout's vast artworks, laying out his dystopian vision of the future. Kölnmesse overlooked how depressing this was when they were looking for work that would fill some space – there was, sadly, a lot of hall that needed filling. But the visitors enjoyed it. As always, the show's young designers showcase, D3, was well worth a visit. Here 
is some of the best work we saw during the city's design week.
top image 01 Atelier Van Lieshout
The Alcoholator, part of Atelier van Lieshout's 2003 installation The Technocrat, a cheerful vision of humans reduced to components of an industrial process.
02 Marco Dessi
The Austrian designer's Prater Chair was one of our favourite pieces in D3. Its appearance was actually an accident – Dessi liked the grain of the plywood chair so much he decided to make a feature of it and stained it yellow.
03 Jacob Brinck
Also at D3 were German designer Jacob Brinck's Bill containers, which stack on top of each other to form a kind of shelving system. Great for hiding a depth of mess while simultaneously showing off a fine book collection.
04 Bertjan Pot, ARCO
Bertjan Pot must have been delighted with himself when he remembered his oak veneer Slim Table had a heart of steel. Because when he was asked to develop a series of products that would turn the table into a desk for the Dutch manufacturer all he had to do to attach the drawers was add magnets. As well as the drawers, there's also a privacy panel, cable tray, adaptor storage unit and wastepaper basket, all of which are attached to the desk with magnets.
05 Philippe Nigro, Ligne Roset
One of very few manufacturers to show pieces before Milan, Ligne Roset presented a new range of pieces by French designers. Among them were this series of Confluence sofas by Philippe Nigro. The puzzle-like composition allows for each segment to be different – so the seat heights, depth, colour, upholstery and foam density vary from seat to seat.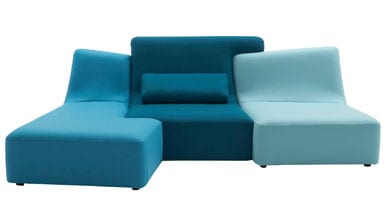 ---