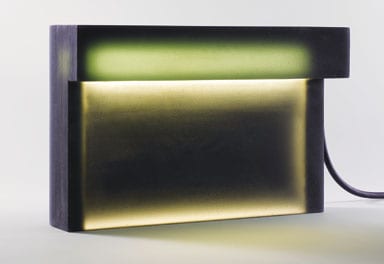 words Anna Bates
In Basel for the annual Design Miami collectors' fair in June, veteran designer Alessandro Mendini got more than he bargained for when he opened the Sensory Deprivation Skull, the foam and polyester sofa by Atelier van Lieshout. An alarmed Brad Pitt was using the booth to have a telephone conversation. Perhaps he was consulting his wife on Van Lieshout's huge Family Lamp, which he later bought.
The Swiss fair (Europe's edition of the annual Florida design fest) saw the tables turned as Hollywood A-listers queued to be introduced to relatively unknown designers. On the stands however it was a pretty static affair. There was the odd LCD screen displaying design processes, but it was a disappointment compared to last year's live performances, where designers brought molten plastic and saws onto the stage.
Notable exhibits included work from the fair's Designers of the Future Award, where Munich-and Stockholm-based duo Kram/Weisshaar, and London-based designers Martino Gamper, Julia Lohmann and Max Lamb responded to a brief to design pieces out of concrete and wool.
Our favourite was Max Lamb's two sets of stools – one made of wool felt, and the other of concrete – shaped using rotational cutting processes and vaguely resembling giant chess pieces. However, the designer spent his time at the fair loyally manning the blown-glass lamps of his ECAL students. Designed especially for the show, the students worked with a young glassblower in Bern to produce the collection. Among the impressive results was a series that inadvertently resembled dirty plastic Tupperware.
Tom Dixon presented his Flame chair and table made from flame-cut steel for Kenny Schachter Rove gallery, while Beijing's Contrasts gallery showed work by Dutch designers Maarten Baas and Studio Makkink & Bey. Baas presented a wooden seat resembling three stacked stools to accompany his wooden garden chair – an Elm version of the simple plastic model.
images Michel Bouvin
top image Michel Charlot and Julien Renault pieces for the Fireworks project for ECAL

Michel Charlot and Julien Renault pieces for the Fireworks project for ECAL

Maarten Baas' Plastic Stool in Wood for Contrasts Gallery

Max Lamb's Solids of Revolution for Designers of the Future award

Makkink & Bey's bathtub from the Cleanliness is next to Godliness series for Contrasts Gallery

Tom Dixon's Flame chair for Kenny Schachter Rove gallery
---