words Beatrice Galilee
A pair of bright yellow gulls on the corner of a school in Falmouth adds the final touch to a building that was designed for and run by 12- and 13-year-old schoolchildren. London-based architect Urban Salon was invited to take part in the project to engage young people in design in a direct, hands-on way as part of a scheme funded by the Sorrel Foundation.
After a whistle-stop tour of contemporary architecture, taking the kids to London landmarks Tate Modern and Peckham Library, the students compiled their lists of wants and needs for the architects to consider. Their main interests were to ensure their building would be environmentally aware and they raised concerns about graffiti and vandalism. "They were very serious about it all," explains Urban Salon's David Pierce. "They were concerned with the school's 1960s image – they felt it was outdated. They wanted to build an extension to their technology block so it was more relevant, with an open light space for them to design." The architects spent three years attending client meetings with the teenagers about the extension.
The saw-tooth roof allows light into the studios and the structure is timber, clad in pre-weathered zinc, with recycled glass insulation. The students wanted to show some sophistication and style, but were also keen for the rubber around the project to be covered in yellow flecks in the black and yellow colours of the Cornish crest.
See www.iconeye.com for a film of the completed project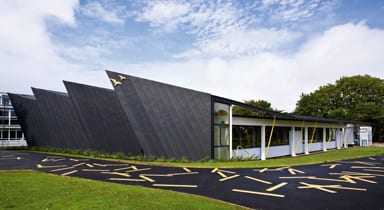 ---