5th Studio has renovated a large hangar in London's Lea Valley into an affordable workspace for Bloqs, a community of makers
Words by George Kafka
Finding a factory on the Enfield banks of the River Lea is hardly a surprise. The river has been a part of London's industrial landscape, as an artery of supply chains running from Hertfordshire down into London's north-east, since at least the 16th century. Today, the river's banks and the surrounding Lea Valley are still dotted with the warehouses, sheds and big-box retailers that typically make up the peripheries of major European cities. Far from glamorous, this is a vital territory where things are manufactured, stored and moved for the everyday running of the city.
Areas such as these have, however, been pushed further and further out of London's centre as its economic priorities have shifted, a change already seen further downstream at Hackney Wick where new-build apartment blocks exhibit an industrial chic in homage to the industries they have replaced. Bloqs, a lively open-access factory established in 2012, has been one of the enterprises swept up in this creeping exodus. 'Our journey was from Hackney out to Haringey, from Haringey out to Enfield, further and further out,' explains co-founder Al Parra. Bloqs now has a new building, east of Tottenham, which seeks to signal a sea change for light industrial businesses and workers in London.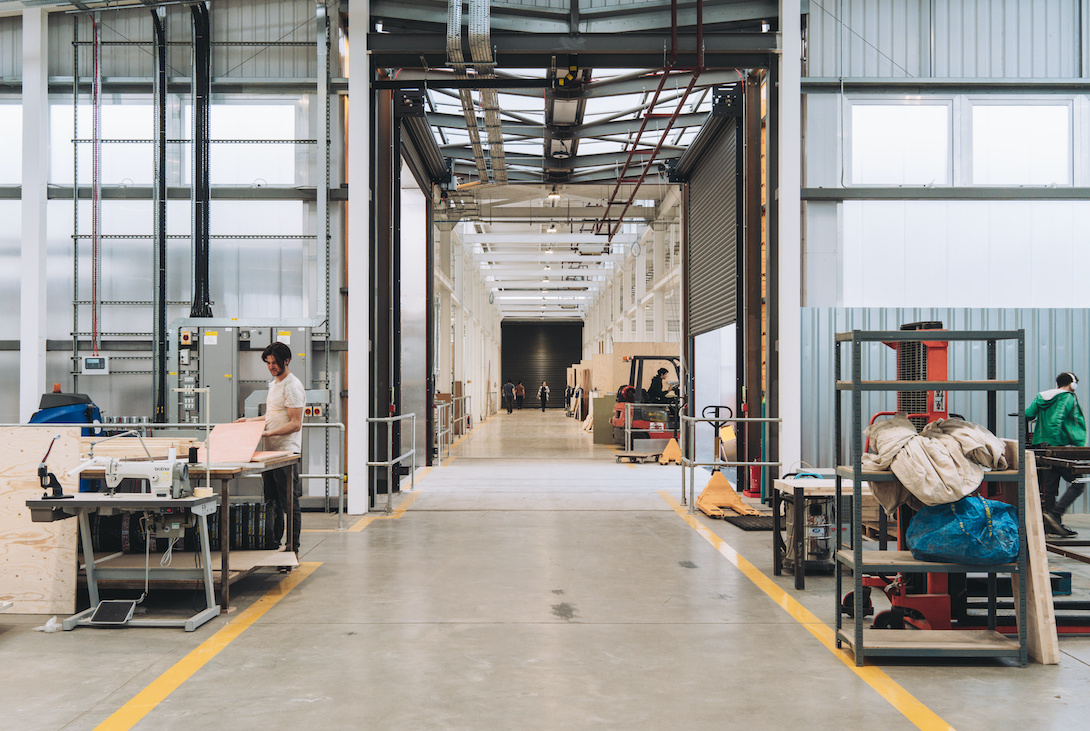 Bloqs first manifested ten years ago as a group of freelance makers – theatre scenographers, artworkers, technicians, boat fixers – who pooled resources to share affordable space and access to machinery amidst what the GLA had termed an 'affordability crisis' for London's workspaces. 'Everyone thought we were nuts doing that in the teeth of a recession,' says Parra. 'Once we got started and began talking about what we were doing, we realised we were part of a much wider systemic need in the city.'
The Bloqs model is simple yet unique. Members sign up for free, after which they can book workshop space for as long as they want, typically the length of a project or job (prices range from roughly £30 to £100 per day, dependent on the amount of space required). The success of the model has allowed the social enterprise to progress from a low-lying brick building with limited natural light, into a new 2,973 sq m premise, leased from Enfield Council and renovated to a design by 5th Studio.
The new site, a former testing workshop for HGVs, has been gutted and extended but the architectural touch is light, allowing for maximum natural light and functionality in the hangar-like workshop. The space is divided according to craft – woodworkers at one end, metalworkers at another; sewing machines and digital printers occupy a wing on the building's southern edge – although the complex feels open and interconnected.
Passing through the building is like entering a light-industrial bazaar. Around each corner one glimpses a different maker plying their trade at different scales: a fifth-generation carpenter sanding cabinetry, the fabricator of an office pod start-up producing prototypes, a metalworker forging balustrades, a fashion designer refining samples. This sense is heightened by the £1.3m pick'n'mix of mills, lathes, sanders, saws, CNC routers, sewing machines, spray booths and other equipment made accessible to the Bloqs members who might otherwise be priced out of using such machinery.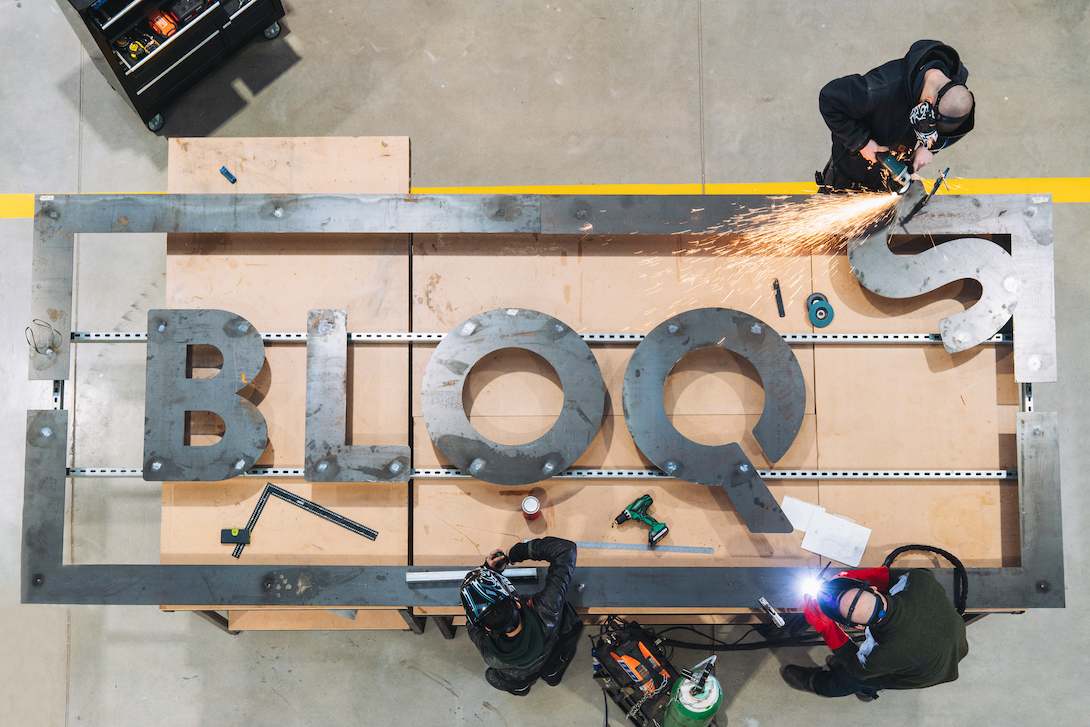 Beyond this vital interior working model, the project's exterior hints at other innovations. It may be unsurprising to find a factory in the Lea Valley, but coming across one with supergraphic signage and a river-facing cafe speaks to broader shifts taking place in the area.
The new Bloqs hub – enabled by public funding – is at the heart of the £6bn, 25-year Meridian Water regeneration project led by Enfield Council, so while its current neighbours are concrete fields and blank warehouse facades it will, in years to come, find itself in a new town centre alongside 10,000 new homes. Arguably the most radical idea in the Bloqs project is to insert light-industrial businesses and workers into the familiar images of cafes, cinemas and housing that signal the future of Meridian Water.
But this future is by no means a certainty. Bloqs is technically a 'meanwhile' tenant on the site, albeit with a 12-year lease period to demonstrate its value to the changing neighbourhood, and indeed to wider London, continuing the historic stream of makers on the banks of the Lea that keep the city alive.
Exterior photography by Tim Soar. Interior photography by Claudia Agati
Get a curated collection of design and architecture news in your inbox by signing up to our ICON Weekly newsletter
---