Inside the Battery, the design references the site's industrial past
Ostriches, dromedaries and alpacas roam free in this park, gallery and artist's studio in Genk. By Alice Bucknell
'You grow the mushroom on the dung of the camel – it's simple really.' Belgian artist Koen Vanmechelen proffers this esoteric wisdom as a female ostrich in heat pecks at his hand. We're standing in his sprawling animal kingdom of Labiomista, a 24 hectare 'reverse zoo' just outside Genk in Limburg, Belgium, which opens to the public this July. This former mining town is home to a small but growing art scene – including the cultural centre C-mine – and now Vanmechelen's monumental living project, hatched in collaboration with the Swiss architect Mario Botta.
Comprised of a public park and animal habitat with follies aplenty, a restored 1920s villa, and a 5,000sq m private studio space designed and built by Botta, Labiomista – which roughly translates as 'mix of life' – embodies the biodiversity and collaboration at the heart of Vanmechelen's social art practice.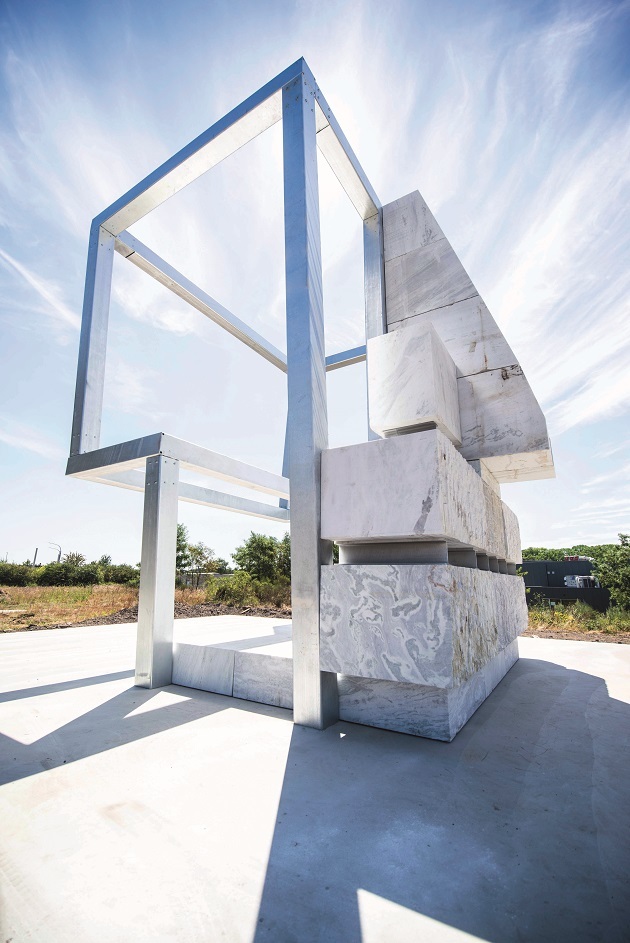 Koen Vanmechelen's Cosmogolem, 2018. Photo by the city of Genk
The seeds for Labiomista were sown in 2014, when Vanmechelen met Genk's current mayor, Wim Dries. Fifteen years earlier, Genk had acquired the grounds of a former mine and zoo in the northern outskirts of the city for a symbolic fee and transformed the land into a public nature trail, which opened in 2009. Dries then entertained a number of suitably suburban proposals for the site – including an equestrian centre and go-kart track – but nothing stuck. Intrigued by the artist's ambitious proposal for an animal sanctuary and public park, Dries offered the land pro bono to Vanmechelen, then based in Hasselt, provided he could transform it into a cultural offering with local impact and international appeal. 'It's an experiment,' says Dries. 'We're pushing each other to cross borders into the wild.'
The city and the artist developed the €20.6 million project as an equal public-private partnership. Vanmechelen paid for and owns the land that his studio occupies and the city pays for and owns the parkland. Vanmechelen's financial contribution went entirely to his 5,000sq m studio: a private, two-storey rectangular building hoisted up on concrete legs to allow space for a public arcade below. Known as the Battery, the concrete structure is clad in a special black brick developed by Botta for the project. Recalling the Isla Nublar laboratory from Jurassic Park, the building's design harks back to the industrial history of the site. Though it gives a defensive first impression, it is softened by the 6m-high floor-to-ceiling windows running along its sides, giving passers-by a view in.
Get a little closer and you'll see the neon signage, marble sculptures and, if you're lucky, a red jungle fowl, the world's ancestral chicken and symbolic king of the park, prowling around the building's underbelly. On the Battery's western end is a steamy greenhouse, known as the Looking Glass. Inside, some two dozen birds, including toucans from South America, hornbills from Asia, and Australian wood pigeons, create a colourful cacophony. Gigantic bird nests embellished with neon text are suspended from the ceiling, creating a dramatic first impression of Botta's studio from the entrance to the park.
Just to the east of its arcade, the studio is bisected by a comparatively sparse open air cage that contains a pair of endangered Steller's sea eagles, brought over from Siberia with the hope of initiating a breeding programme. 'The birds of prey and paradise create an equilibrium, and my studio inhabits the in-between,' says Vanmechelen. 'We think we have everything we need to survive, but sometimes humans are the prey and not the predator.' He exudes the air of a mad scientist, his hair permanently ruffled. His primary medium has always been animals – in a past life he was a chef – and his practice jumps fluidly from marble sculptures to growing medicine inside mushrooms.
Stepping into his studio is like entering a glamorous redux of Dr Moreau's lair. Raw slabs of marble from Colombia and tubes of buzzing neon meld with the polished concrete and warehouse feel of Botta's design. On the first floor, a stuffed cheetah with turkey wings leaps above a totem pole of stacked wild boars, while a stuffed iguana-headed Himalayan monal pheasant perches atop a tower of tusks. Nearby, a 19th-century alligator hide cradles three blue marble eggs; their swirling forms seem to represent planet Earth, held in place precariously by history and nature, and our conflicting desires to capture and preserve it.
Many of the works hold poetic symbolism, although they raise questions over their sustainability and respect for animal rights. The artist preaches a circular economy and life cycle for the animals, only using them in his work following their natural death. From his farms in Detroit, Ethiopia, Zimbabwe and elsewhere, Vanmechelen breeds and donates animals from chickens to bulls to local communities so that they can diversify and strengthen their livestock, and he receives the animal hides in return. These funnel into new works, and their sale ensures the system keeps on running.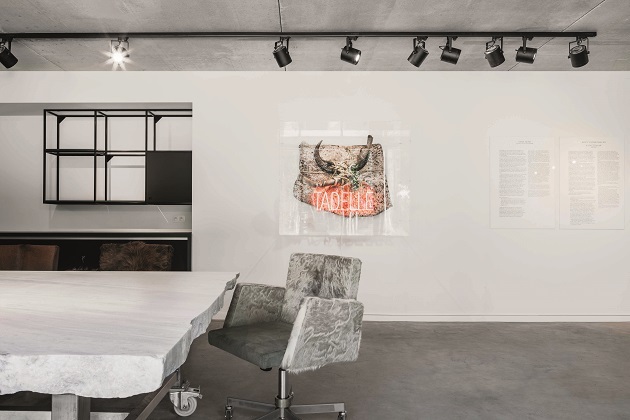 Inside the studio office, the theme is cool grey tones of marble and concrete
Follow the winding fence to the entrance and the buildings stack up like a game of dominoes: Botta's prow-like entrance building, dubbed the Ark, is followed by the 1925 Villa OpUnDi, and finally, the Battery. The Ark is an angular, elegant structure made from polished concrete and black brick. Covering 230sq m, its chapel-like entrance easily fits a welcome centre, ticket stand and gift shop. Although the Battery is off-limits to the public, admission to the grounds can be gained for €8 a pop, while locals are eligible for a €5 annual pass.
Futher along the path is the Villa OpUnDi – the eccentric crash pad of the old mine director, Emile Renotte. A handsome two-storey red-brick building inspired by the Mosan Renaissance – a regional architectural style from the 17th and 18th centuries – the villa is the last of its kind left in Flanders. Brought back to life by local restoration specialists Rhinotech, it is unapologetically maximalist, with red marble floors and textured wallpaper. On the ground floor is a meeting room that will be used by the City for government meetings; inside, an oval glass table filled with eggs is flanked by marble busts of Socrates and Julius Caesar with smashed ostrich eggs adorning their heads.
On the other side of a winding route through the park is Cosmogolem (2018), a 9.5m-tall marble head that could rival the statues of Easter Island in stature. It borders a wild picnic area that doubles up as a shiitake mushroom farm. Here, chunks of concrete aggregate used for the original zoo cages combine with upcycled logs from the park to make an organic play area for Labiomista's younger visitors.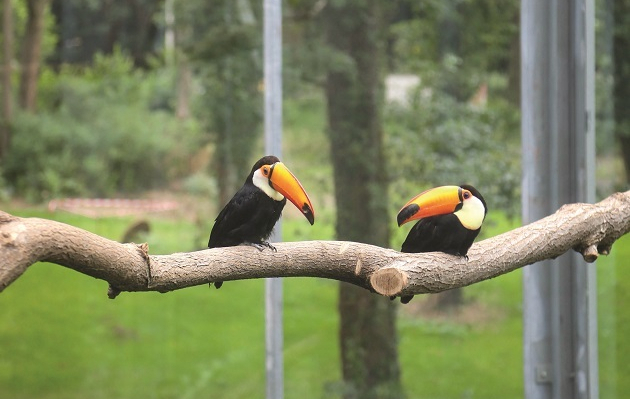 A little further along is the first of three animal compounds, each approximately 1ha in size, which each allow their furry residents space to roam. Throughout the compounds, dromedaries, ostriches, alpacas and emus roam free with Vanmechelen's 'living artworks', including his Cosmopolitan Community Chicken, an ongoing project involving crossbreeding chickens from different countries to maximise genetic diversity. Minimal fencing and cunning landscaping details keep the animals out of harm's way while maintaining their freedom.
The design coup of the park is Lab Ovo, a concrete amphitheatre by Antwerp-based practice Belle + Medina that will serve as a performance and workshop space, plus a panoramic rooftop viewing platform where visitors can catch their breath. Supple ribbons of light grey concrete bend and warp their way around the platform, casting dramatic silhouetted shadows on a sunny day.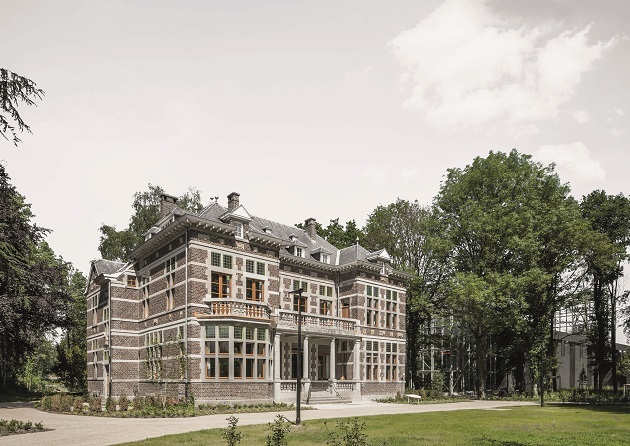 The former director's villa is now an archive
Labiomista has no in-house restaurant or cafe. Instead, the team has worked with the city and the local neighbourhood to establish Nomadland. Residents will sell picnic baskets of produce from the park's community-led allotments – which pre-date Labiomista – to visitors. Local restaurants will get involved with food trucks. Open and informal, the picnic area features a smattering of tables designed by Voet en De Brabandere, another young Belgian practice, which is also responsible for the curious 'mirror mushrooms' dotting the park's curving banks and ponds.
As the park gears up for its public opening, its makers are already conceiving future additions. A second phase of Labiomista, involving the 12ha 'protected paradise' out back, is in the works and will eventually be home to reindeer. Such fanciful ideas as overnight accommodation in cocoons that dangle from repurposed windmills (with an egg on top) are currently on the drawing board. While it might sound bonkers, starting out in the realm of fantasy is Vanmechelen's style: 'The sketches for Labiomista were like this three years ago,' he laughs. For the greenest city in Flanders, this was never going to be just another public park. But Labiomista asks a global audience to reconsider its relationship to nature and animals, all while giving locals something to crow about.
This article originally appeared in ICON 194, the August edition, all about performativity and space
---