Tomás Saraceno premiers a new installation at Florence's Palazzo Strozzi. Photograph: Ela Bialkowska / OKNO Studio
Get a bitesize overview of the week's headlines and events with Icon's round-up
SCENE
A MOVABLE FAIR
You don't have to be a hypochondriac to be relieved that this year's edition of the Salone di Mobile has been delayed until mid-June. Italy is the first country in Europe to suffer an outbreak of coronavirus, which has spread so quickly it may have claimed Il Papa. Whether two months' delay is going to make a substantial difference to the situation remains to be seen. Nevertheless, in the interim, the design brands who have traditionally seen the Salone and its attendant design week as the central point in their annual strategies will be scrambling to re-align their business strategies to the unexpected shift of the world's biggest design fair.
CORONAVIRUS COMPLICATIONS
The Salone's postponement, of course, is only one of coronavirus' reverberations on the design calendar. First, when the disease was confined to China, Design Shanghai was postponed and the concurrent Festival of Design was cancelled. More recently, Light + Building at Frankfurt has been pushed back to a cautious September, while Milan Fashion Week saw shows performed in empty venues then screened online. The Venice Architecture Biennale, though in one of the Italian regions most hit, is slated to go ahead in May, as will MIPIM, the dubious property fair in Cannes, in March.
CABAL COUNCIL
The tussle between traditionalism and modernism has raged at least since the time of Alexander Pope. Last year's kerfuffle around Roger Scruton's Building Better, Building Beautiful commission has reignited the conflict in British architecture. In the wake of that report, a band of traditionalist architects led by Robert Adam and Scot Masker have assembled the Traditional Architect Group (TAG), which aims to encourage local councils to embrace traditionally-styled schemes after what Masker — with a hint of conspiracy — calls a 'cabal of local design professionals.'
DECOLONISING IS A THING
New York's Met Museum has lifted the ceramic teapot lid on its new gallery of British decorative arts, which was seven years (and $22 million) in the making. Although it still contains a fat wedge of stately interiors, the new arrangement takes care to consider the role of exploitative colonialism in British culture and the traditions of working and middle-class lives alongside those of their aristocratic masters. Several of Britain's own museums should be taking notes.
Céline Semaan Vernon's transgressive Banned Scarf, designed for Slow Factory. Copyright: Slow Factory.
DIARY
Contemporary Muslim Fashions, Cooper Hewitt Smithsonian Museum, New York
Having proved a success at San Francisco's de Young Museum in 2018, this exhibition — the first major museum survey of its subject — finds a second home at the Cooper Hewitt. Bringing together 80 ensembles with photography and film, it explores how designers have created outfits that both meet the demands of Muslim dress and connect to the trends of International fashion. Three-quarters of the designers featured in the exhibition are Muslim women of under the age of 40. Until 23 August.
Tomás Saraceno: Aria, Palazzo Strozzi, Florence
The Argentinian artist Tomás Saraceno has become known for his architecturally-inspired installations, from two-story geodesic domes to enormous suspended webs on which visitors can crawl. This new survey exhibition at Florence's leading contemporary arts kunsthalle aims to embody the path between the anthropocentric, limited world of the Renaissance to the infinite universe of today, interacting with the palazzo's historical architecture along the way. A vast new site-specific work, Thermodynamic Constellation, will explore Saraceno's ideas for a fossil-free world. Until 19 July.
Space Popular have convened RIBA's first VR show. Photograph: Evert Palmets
Freestyle: Architectural Adventures in Mass Media, RIBA, London
Known for their kaleidoscopic colour schemes and tessellating patterns, the London-based architecture and design duo Space Popular have in past displayed a carnivalesque aesthetic. It's somewhat fitting, then, that there first exhibition at RIBA, takes the form of an immersive virtual reality experience, that latter-day fairground. Anchored by artefacts from RIBA's collection, Freestyle examines how the mass media led various architectural styles became common currency. Until 16 May.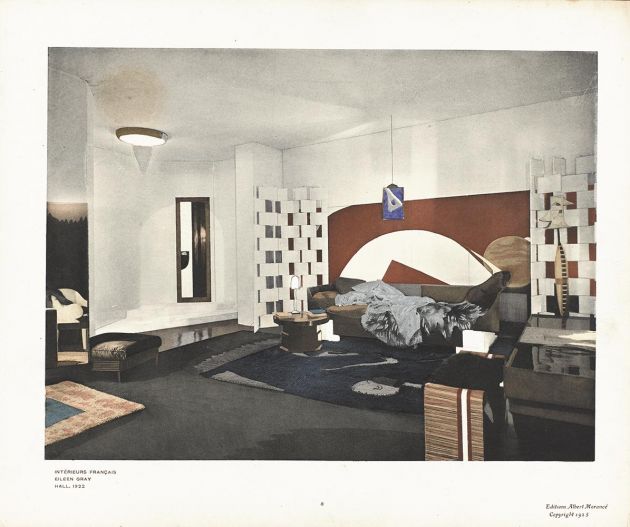 Eileen Gray's design for a Monte Carlo boudoir. Photo: Archives Galerie Gilles Peyroulet Paris
Eileen Gray, Bard Graduate Centre, New York
The Irish-born Eileen Gray is best known for her holiday villa E-1027 — famously painted by Le Corbusier against Gray's wishes — and a series of radical chairs that stretched from Art Deco to modernism. But as well as an architect and designer, she was also a thinker, as this new retrospective of her works should demonstrate. 'Everything in Gray's work is connected,' curator Cloé Pitiot told Icon last week.' Until 12 July.
---