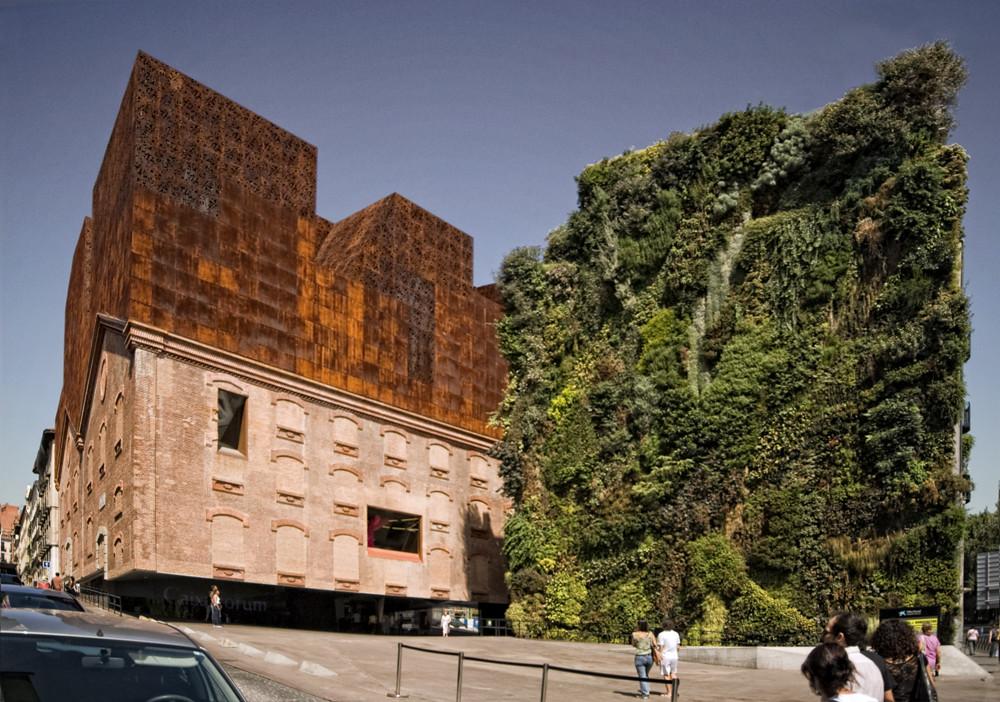 CaixaForum Madrid. Photo by Óscar Carnicero via Flickr
The CaixaForum by Herzog & de Meuron is a vast cultural centre in the heart of Madrid with an unmistakable rusted metal facade
The CaixaForum arts centre in Madrid opened in early 2018. Designed by Swiss architecture firm Herzog & de Meuron, the centre incorporates walls from a power station that previously occupied the site. It contains gallery spaces, administrative offices, a restaurant and an auditorium.
The building is defined by its rusted steel cladding and its vertical garden facade, which Herzog & de Meruon designed in collaboration with French botanist Patrick Blank. It quickly became one of the Spanish capital's landmarks.
The designers intended the CaixaForum to function as a cultural magnet for art lovers in Madrid and beyond, hoping that the building itself would act as an attraction on top of the exhibitions it hosts.
The CaixaForum is located in central Madrid on a site that faces the Paseo del Prado and the Botanical Garden. The building reuses parts of the Mediodia power station, a brick structure from Madrid's industrialisation. An adjacent old gas station was demolished to make way for a new plaza.
All that survives of the original power station is the classified brick shell, but large parts of the interior were removed. The base of the building was removed to make way for a covered plaza under the bricks, which seems to float above the street level. The space below acts as both the entrance and a public meeting space.
The CaixaForum is separated into two levels, one below and one above the ground with the plaza on the entrance level. Below the landscaped plaza is space for a theatre and auditorium, service rooms and parking.
Above the ground, the multi-storey building houses the entrance lobby, galleries, a restaurant and administrative offices. The top floor houses the restaurant, which offers panoramic views of the city.
The CaixaForum hosts a range of cultural activities, which include exhibitions, films, concerts, workshops and educational activities for children and families.
---