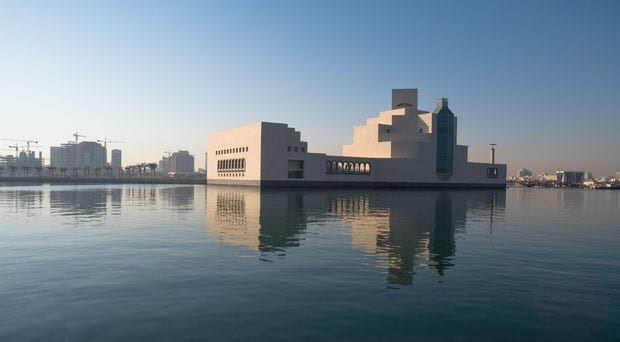 words William Wiles
IM Pei has completed his last major commission, the Museum of Islamic Art in Doha, Qatar. The museum is a fitting climax to the Chinese-American architect's long and distinguished career. It's a spectacular edifice of pharaonic ambition, and an instant national symbol and source of cultural cachet for this tiny but ultra-wealthy Arab state.
A starkly geometric ziggurat of pale French limestone, the museum juts out of Doha bay, an artificial island at the end of a small park peninsula. It is topped by an offset cube concealing a faceted steel dome, which crowns a dramatic five-storey atrium in the centre of the building.
Just as the Qatari royal family, the patrons of the museum, scoured the Islamic world for art and artifacts to form its collection, so Pei has been shopping for his influences from Spain to India. The most commonly cited is the fountain in the Mosque of Ibn Tulun in Cairo, Egypt, a similar stepped geometric stack surmounted 
by a dome.
"Geometry is my framework, but I find that if the geometry is too obvious then I have failed," said Pei when icon was able to speak with him at the opening. The 91-year-old architect also stressed the influence of secular Islamic architecture on his design, particularly the fort in Sousse, Tunisia.
"I find that fascinating – those fortifications are really works of genius, pure geometry," Pei says. "A museum is really walls protecting what is inside, so fortifications are a good start."
Pei added that the museum would not be his last building: "I began my professional life with a chapel in Taiwan, and I think I will end my life with a chapel in Japan."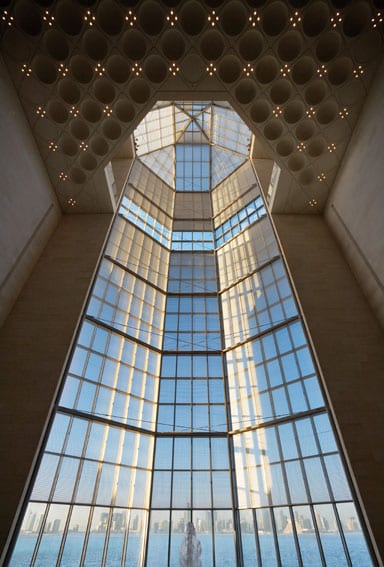 ---